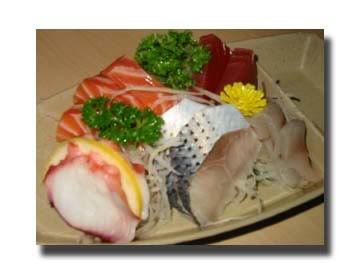 Are you a sashimi lover like me? 
Do you crave the succulent taste of fresh salmon basked in wasabi?
Does your mouth water at the very sight of sashimi in Japanese restaurant windows (or like the one in the picture above), and do you find yourself not being able to restrain your urge to savour this delectable cuisine?
If you've answered a resounding YES to all of the above, then you are a self-professed sashimi lover like me, and you're gonna thank me for what I am about to reveal.  Whenever I eat sashimi, I will never fail to eat it with wasabi… but of course! I would ask for the wasabi with the extra kick, because the regular wasabi just doesn't do it for me 😉 … hey, I'm not called the wasabi queen for no reason, okay?
My favorite kind of sashimi is salmon, especially if they are sliced just right producing the right texture and succulence for my teeth to sink into….aaaahhhhh……perfection.
A couple of years back, I discovered that if one eats sashimi with plain wasabi (without soy sauce), it's like kacang puteh. No kick at all.  But add the soy sauce, and oolalaaaa… you'll feel it right up to your nose.  However, just last week, hubbs and I made another amazing discovery, after we got bored with the sashimi+wasabi in soy sauce kick.  Our discovery?
Sashimi + Wasabi in soy sauce + Radish strips = Fu-yooooh KICK in the highest degree!
Hey, I kid you not… go try it and let me know 😉
You may also enjoy these: