Dragon-i has recently opened an outlet in Queensbay Mall. I've seen this outlet in The Curve and it was jam-packed. And since Penangites are prone to the "new toilet syndrome", I wasn't surprised to see a long line forming outside the outlet last weekend when I was out shopping. They even had 3 rows of seats in front of the shop to accomodate the waiting crowd. Well, of course, I didn't go in then. I simply took the brochure and business card, just in case I wanted to make a reservation for a lunch appointment a few days later.
So last Thursday, my 3 girlfriends and I decided to check the place out. A couple of days before, I had read a review that claimed the service was impeccable. Expecting to be served like queens, we arrived shortly after noon and were glad to note that we didn't have to wait long to be seated. Unfortunately, I was sorely disappointed with the service. Not only were we made to wait aeons for our orders to be taken, our plain water took ages to arrive as well. Service was sadly provided with nary a smile. Although the restaurant was full with people having lunch, but that is hardly an excuse for the poor attention and service rendered. I regret now that I had forgotten to leave a comment on their comment card but I guess this post will have to do just as well.
But thank goodness the food saved the day! We ordered the drunken chicken, which was a tastefully prepared cold dish. It was a fantastic appetizer which left me wanting more, and that's always good when it comes to food.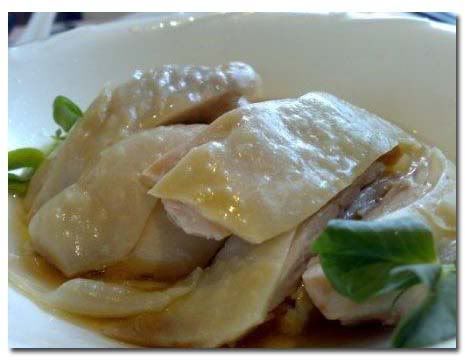 Then of course we ordered their famous la mien (pulled mee), in both the soup and dry variety. For the soup variety, we had the spicy la mien, which was exquisitely prepared with minced meat and a hint of ground peanuts in a slightly spicy sauce. It was the one with the biggest picture in the menu, so we figured it ought to be the specialty of the restaurant. I can't remember the price, but I think it was RM18 per bowl. We also ordered the seafood la mien which was recommended by the waitress, but that left much to be desired unfortunately. I thought it tasted just like any regular mee goreng, which would have only cost a fraction of the price. So go with the soup la mien if you want that bang for your buck.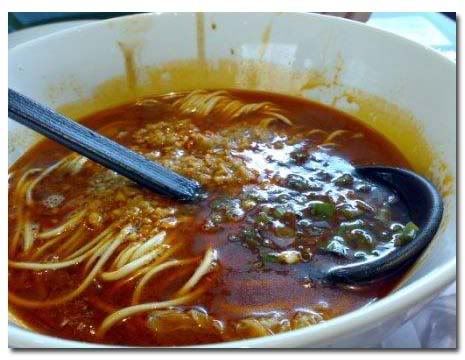 We also ordered the famous siew long pao, which came in a serving of 4 pieces. Although it tasted excellent, I felt like I was being robbed in broad daylight in terms of garnishing. See… this is what Dragon-i has advertised their siew long pao looks like in the brochure:
and this is what we got, plonked down on our table:
Doesn't it pale in comparison? No carrots and vegetables to make the pao look more delectable. Tsk.
Our final dish is something known as "The Pao that the Dog dowan to eat", which is a direct translation of the name of the dish in Mandarin. Don't ask me why it is named as such though. In English, it is stated in the menu as Tianjin Steamed Meat Bun. It comes in a serving of 2 steamed buns, containing a meaty filling. Nothing to shout about really, but delicious all the same.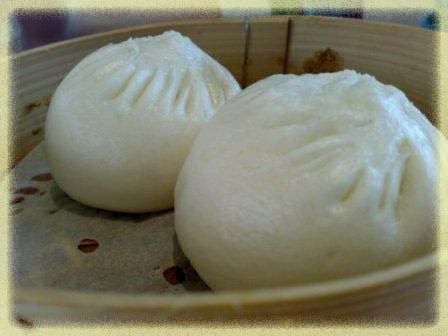 Our lunch came amounted to about RM66, not too bad, I would say for a hearty lunch. Oh yeah, there's a discount of 10% off the total food bill if you pay with your SBB (now CIMB) credit card. And credit should be given to the waitress because she informed us of this. See? I do give credit where credit is due.
You may also enjoy these: