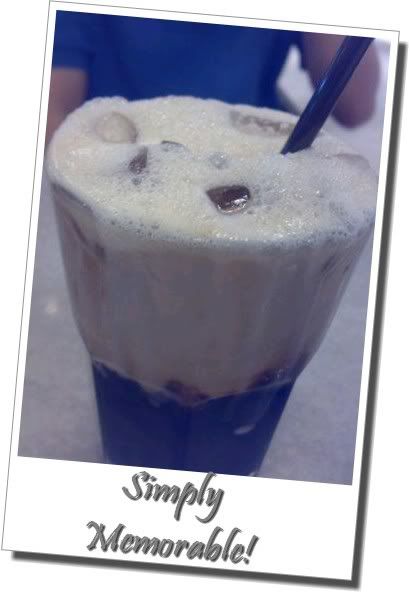 I have been wondering what the difference is between the regular Old Town White Coffee and the Nanyang Memorably. Both kinds of coffee are served in the Old Town kopitiam franchise and being a non-coffee drinker myself, the difference between the two still eludes me. However, a couple of days ago, my hubby was out with some colleagues of his and had the opportunity to try the Nanyang Memorably iced coffee. And he has been raving about it ever since. I suspect he is very much addicted to it. I too was curious as to how good this glass of mojo is, so we had lunch at Old Town today and I had my first taste of the memorable Nanyang Memorably.
Served in 2 layers, with really thick coffee (read: caffeine overload) at the bottom and topped with frothy milk which I suspect is evaporated milk, the Nanyang Memorably is not for the faint-of-heart. Even though the ice did dilute it somewhat, it was very strong and it will definitely give the conventional latté a run for its money. Stir it up real good and have a go at it. Every sip was like an instant shot of caffeine straight to the brain, guaranteed to perk one up for the rest of the entire day.
As for the difference between the white coffee and its memorable counterpart, anyone wanna volunteer and help me shed some light?