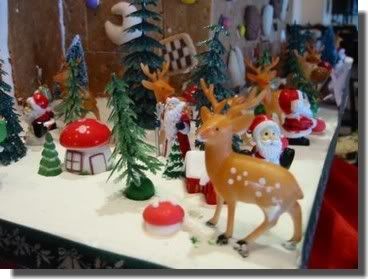 First off, a very merry and blessed Christmas to everyone who has taken the trouble to wish me and my family good tidings for the festive season! May peace, goodwill and God's blessings be with all of you throughout the coming New Year! And now here's my Christmas story…
Right before I scooted off for the Christmas holidays, I received an early Christmas present in the form of a tag from Healy. Initially I had planned on getting it done before Christmas but that didn't materialize, owing to inevitable circumstances.
The Saturday before Christmas, my brother and his wife came to Penang for a visit, so we took them to the E&O for lunch. Well well, whaddya know… they were serving fresh oysters on the buffet spread! It had been ages since I had indulged in oysters so I wolfed down half a dozen…and a couple more. But that turned out to be a disastrous decision because in the afternoon, I felt really giddy and had to take a long afternoon siesta. Woke up with a fever of 37.9°C, took two Paracetamol tablets and prayed the fever would go down down down. I was still nursing a slight cough then too, and so I proceeded to make myself a cup of warm Manuka honey with lemon.
After dinner, my head was really heavy and I went to bed as soon as I can. I felt better in the morning: fever had subsided but my whole body was aching all over. Then in the afternoon, my tummy was grumbling, tossing and turning. Evening came and dealt me a severe blow of stomach flu. Although I felt weak and dehydrated, I still had to pack for our road trip the next day.
Anyway, Christmas eve in Taiping and then Christmas day in my hometown of Ipoh was a rollercoaster of *thinking* I was getting better and then making an about-turn for the worst. All these amid the gift exchanges, fruit cake and red wine. My lower back was also hurting so bad I had to lie down as often as I could. Not a very easy feat to do with a toddler who demands your attention at all times, I tell you…
Finally, I woke up on Boxing Day feeling way better than I had felt in days. Up till now, I don't know if it were the oysters that caused it because hubbs took them too and he felt fine. But thank goodness, I felt good enough on the 26th to savor the famous Ipoh kai-see-hor-fun, with lots and lots of kow-choy. Wouldn't have missed that for a thing, even though we had to take turns carrying Ethan whilst eating because the shop did not have any baby chairs available. After lunch it was back to Penang, where more Christmas presents awaited us, well most of them were for Ethan actually. Two more Christmas cards arrived in the mailbox; a handmade one from Mei Lee and a card with a cute gift in it from Rinnah. Thank you darlings! You gals rock!
So today it is back to the humdrum of work. The past week of battling illness has worn me out so much that I booked myself a facial today, just so I could get some me-time in the equation. And so, after my longwinded story of how I spent Christmas, here's the Christmas tag, as promised. Still done within the 12 days of Christmas… hehe… so enough about me… how was YOUR Christmas?
1. Egg Nog or Hot Chocolate? Hot Chocolate… because I don't even know what egg nog tastes like.
2. Does Santa wrap the presents or just sit them under the tree? Methinks his elves wrap the presents. Santa just delivers them, no?
3. Colored or white lights? Whitish amber lights. And blinking ones.
4. Do you hang mistletoe? Not this year, but I would love to. Next year, perhaps?
5. When do you put your decorations up? I already did… two weeks ago. And they are still up…maybe till after New Year comes and goes.
6. What is your favorite holiday dish? Mom's homecooked food.
7. Favorite Holiday memory as a child? Spending Christmas with my family, writing long lists of presents for Santa and hoping he'll bring them 🙂
8. When and how did you learn the truth about Santa? I can't remember… but I really really thought I heard him and his sleigh on the roof some Christmases ago.
9. Do you open a gift on Christmas Eve? Nah…it has to be past midnight, i.e. really really Christmas.
10. How do you decorate your Christmas Tree? With my bare hands, and of course, this year, with silver and blue ornaments.
11. Snow: Love it or hate it? Love love love! But must have awesome boots to parade in la.
12. Can you ice skate? Not if you call skating falling on my butt! O-U-C-H!!
13. Do you remember your favorite gift? The gift of salvation, when I was baptized on Christmas day many many years ago.
14. What's the most important thing about the Holidays for you? Spreading love and cheer to everyone dear.
15. What is your favorite holiday dessert? Cheese cake, with a strawberry on top. Had it at the E&O that fateful day… no strawberry on top of that one though.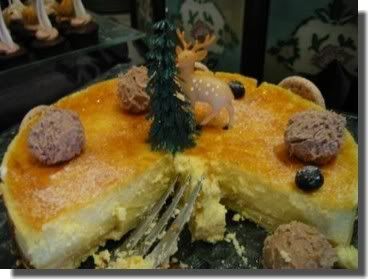 16. What is your favorite holiday tradition? Singing Christmas carols together as a family.
17. What is on top of your tree? A silver star
18. Which do you like best giving or receiving? Both. I also like shopping 🙂
19. What is your favorite Christmas Song? Have Yourself a Merry Little Christmas, Away in a Manger, O Little Town of Bethlehem, The Christmas Song, O Holy Night…okay, I love all the Christmas songs…
20. Do you like candy canes? Not really, but I'll take them if I get them 🙂
Sending Christmas cheer, peace and goodwill in the form of a tag to Rinnah!… also because she announced she is tag-free! hehe…