It was a really a spur of the moment decision.  The claypot chicken rice I had cooked for lunch was all finished, thanks to our lunch guests: uncle-in-law, brother-in-law and his fiancée.  So we had the perfect reason to go out for dinner last Saturday night.  What started out as a trip to McDonald's ended up with us walking into Chili's Gurney Place.  Would you believe it was our first visit there, since it opened so many moons ago? (well, a few months ago we *almost* ate there, but were turned off by the non-politeness of the welcoming crew)
Anyway, we stood outside and waited to be seated.  No one came for a good one minute or so, and when the lady came to ask us how many people in our party, she did so with nary a smile.  But we thought we would bear with it and see how the whole experience would turn out to be.  We were then ushered to our table and provided menus.
Hubbs ordered the lamb shoulder and I ordered the chicken monterey.  One cool thing about Chili's is that they offer bottomless fruit juices, so of course I went for the mango juice, while hubbs went for the pina chillada (non-alcoholic, mind you.  Pina COLLADA is alcoholic, CHILLADA is not).  
By the way, don't you think the mosaic design on the table is way cool?  Really unique.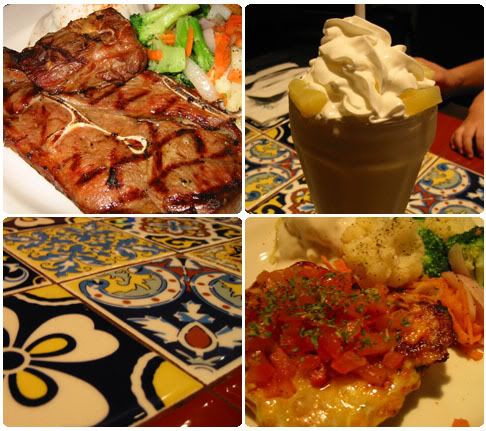 Just like Friday's, kids get to dine for free at Chili's too, so I ordered a plate of spaghetti for Ethan and I was also pleasantly surprised that Ethan's drink was on the house too.  My boy loves iced lemon tea and since it was not in the list of kids' drinks, I requested for it and was delighted that they willingly obliged.  He finished the whole glass all by himself too!
All in all, the food was fantastic.  I especially loved the lamb shoulder and would definitely order it the next time I go, IF I go.  Service was well below par, I'm afraid.  In addition to the no-smile-greeting we had, right in the middle of our meal, someone interrupted us in a weird manner, I might add, and asked us how we found our dinner.  I notice this is something most restaurants practise these days, but unfortunately, it wasn't done with tact, and so it appeared rather fake-ish. 
When we were leaving the restaurant too, no one thanked us for coming, unlike the jovial goodbyes we get at Friday's.  There were no free balloons to give out to the kids at Chili's too.  But then I suppose most Malaysians tend to overlook the bad service and go for the food, huh?  As long as there is bottomless chips, drinks and free food for the kids?
You may also enjoy these: