Last Monday, my hubby told me about a rather strange email he had received from a very good friend of his. He deemed it strange because although my hubby and this friend of his get along really really well, he couldn't, for the life of him, understand why that email was sent.
The email went something like this:
Subject: I will be busy this week

I will be busy the whole of this week because I have to host my friend Lewis on his 2nd trip to KL
And attached in the email was the following picture: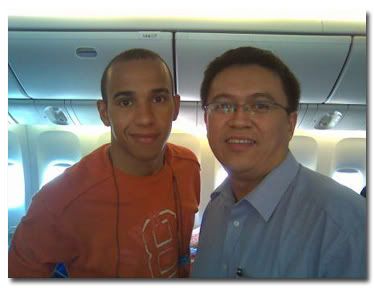 I, too, thought it was a rather odd email but we figured that our friend was just up to one of his crazy antics again.
It wasn't till the next morning, just before I dropped my hubby off at work, that it suddenly hit me… that Lewis in the photo bore a striking resemblance to Mr Lewis Hamilton!! With the Formula 1 hitting Malaysian shores this weekend in Sepang, everything suddenly made perfect sense! That email must have been a bragging tool for my hubby's friend! D'oh!
It's a wonder why and how we didn't realize it when we saw the picture…turns out that our friend actually met Lewis in the same plane and of course, who wouldn't ask for a photo, eh?  He says that Lewis is a really polite and soft-spoken guy.
So there you have it…a truly "duh"-fying moment brought to you courtesy of The Giddy Tigers. Over and out.
Have a blessed Good Friday, everyone!