Two weeks ago, I put a software application training DVD on my laptop, the contents of which is intended to give me an overview of the software I was about to work on on my latest project at my workplace.  However, the DVD would not run and I discovered it was because it required QuickTime Player to be installed on my laptop, which I did not have then.  Of course, I proceeded to install Apple Quicktime, and with it I also had iTunes installed.  Yay!
Well, little did I know that together with the QuickTime installation, the Apple Safari browser was installed too. And it wasn't till about three days ago when I was prompted to install some patches or upgrades for Safari, that I realized it was there.  Yeah, I am that blur.
Anyway, I decided to take the Safari out on a test drive.  For the first time!
And guess what…? I absolutely totally love it!  Not only do I love the clean look it exudes, the sites load so much faster with Safari too.  I thought Firefox was cool, but Safari takes the cake for me, I tell ya.  Fonts and colors seem to appear classier, making the reading experience a sensational one.  
As if this was not too much exposure to Apple products, I actually physically held an iPhone today!  After all the hype I had heard about this gadget, especially from the Emperor and the Queen, having it in my hand finally satisfied my curiosity.  It belongs to my co-worker(well, actually her husband) and she very kindly allowed me to fiddle with it.  I toyed around with the finger zoom in and zoom out functions (super awesome), the map application (also works with the finger zooming feature), iPark (methinks this is to allow one to key in the pillar number where one parks their car) and of course the Safari web browser included in the iPhone.
I think I could grow to like this, just like so many others have. 🙂
Y-A-W-N………and now, if you'll excuse me, I'd like to call it a night.  I'm looking forward to a really good night's rest tonight (because it's gonna be a very activity-filled day tomorrow), and I hope the Friday's strawberry margarita (which I finally had for the first time ever this evening) will help me attain that.  Oh, and for the record, the margarita really really rocks!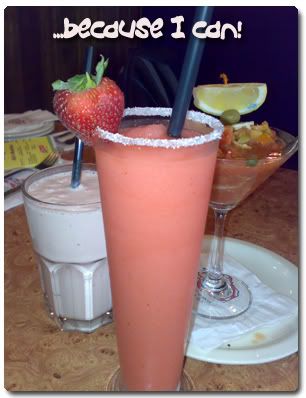 You may also enjoy these: