NOT work, of course!!
Work, work, work and more work! Every single work day, my fingers meticulously create and reply emails with clockwork precision. Open email, read read read, then type out replies, think a little bit. Rephrase the email, sometimes. Hit ALT+S. Gets dreary sometimes, aitelyu. Attend meetings, answer customer calls, draft and finalize project documentation…can it not get any more predictable? For once, I would really like to get away from it all. There are so many things out there waiting for me to experience, why do I have to remain cooped up in the workplace? Yeah, cuz it brings in the dough. Don't need a genius to work out that equation.
If only someone will instead PAY me to:
1. Open ceremony with my new 32-inch MAXIM wok!! Complete with a WYSIWYC (what you see is what you cook) glass cover and vents for airflow control (though I don't know how the *control* portion works because the knob on the glass cover is not rotatable). I bought this baby for a steal at only RM74.50 (it retailed at RM269, but Jusco had it on sale at half-off, plus I made use of my RM60 worth of Jusco vouchers, and voila…here was a wok to give me hours of endless hours of cooking joy). What shall I cook first? Yummy claypot chicken rice? Stir-fry vegetables? Ehon's cheese and mushroom omelette? Or lormaikai? No…that one must use steamer…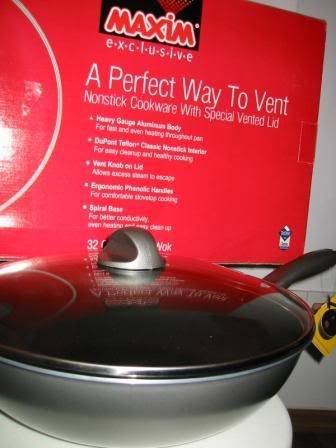 2. Go for a holiday. If only I can teleport myself back to the Maldives for a second honeymoon! White string bikinis, pristine sandy beaches, snorkelling, food…and sun sun sun!!! Throw in a full body massage and bask myself in the intoxicating scents of lavender and ylang-ylang essential oils and I am in paradise.
3. Join Preeta on her book tour. I just got word that one of my dear ex-classmates and good friend, Preeta Samarasan, will be embarking on a book tour this coming May in conjunction with the launch of her first book, "Evening Is The Whole Day", which is already gaining rave reviews in the press. Preets is an excellent writer, and in fact this was already apparent in our schooldays when she displayed her prowess in the English language and also French (she got an A1 for French in SPM!) Preets was my Ding and I was her Dong. Don't ask. And she drew a really adorable picture of a polka dotted piggy in my autograph book. I'm hoping to be able to fit into her suitcase now.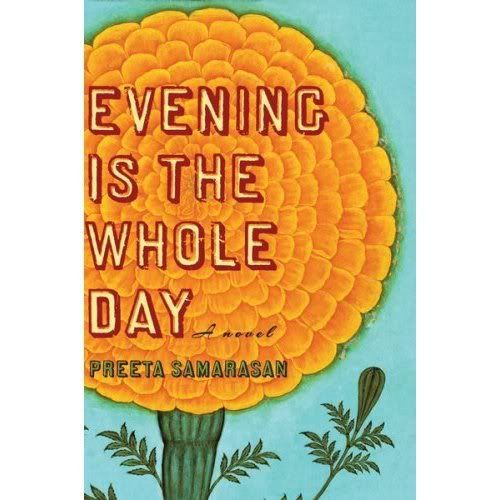 4. Watch reruns of Desperate Housewives, Grey's Anatomy or Heroes while pigging out on ice cream. Curling up on the couch without any interruptions, and (NOT) getting fat in the process is just a bonus.
5. Enjoy a relaxing, no-holds-barred lunch with a good girlfriend. It's always enlightening to catch up on each other's lives while having a scrumptious lunch. Even though it is only for an hour or so…and then bam! back to work….SIGH. Never mind what we ate, it was the company that mattered.
So how? Anyone wanna pay me good money to do the things I love?