What do you get when you put a vainpot, RM300 and two hours together?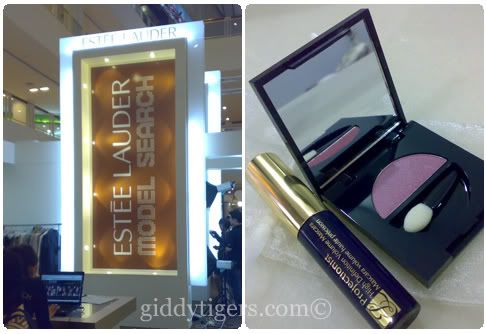 Heh. Last weekend, I succumbed to my inner girly dream to become a model and signed up for an Estee Lauder Model Search makeover PLUS a photoshoot. In addition to being treated like a model, this package entitled me to a RM250 voucher to redeem Estee Lauder products and an additional door gift comprising an Estee Lauder eyeshadow and mascara worth RM80 (there was also a RM150 Sony voucher which I don't see any need for). Anyway, all this happened at Queensbay Mall. I can tell you that honestly, it felt very diva-ish, just because I was able to tell the hairdresser how I'd like my hair done, and the professional stylist what kind of look I wanna achieve. All simply for the taste of that modelly million bucks feeling. Felt exactly like a scene out of America's Next Top Model.
But it's a female thingy I suppose.
My hubby cannot for the life of him, fathom how or why I would wanna sign up for the makeover and contest. And again, I have to say it's a female thing. I saw girls and women of all shapes and sizes patiently sitting there, waiting to be made up by the professional makeup artists and then sportingly posing for their photo shoots. And (dare I say) aunties too were not spared the temptation.
And in the end, after all was said and done, my hubby was also SWEET enough to pay an additional RM100 for the entire set of my 21 digital photos from my shoot PLUS a framed A4 size copy of one of the photos. I enjoyed myself thoroughly throughout the session (except for the fact that I forgot to bring along a bottle of water, so I was rather thirsty – in reality, models would be provided with water, no?).  As a move to fulfill my modelling fantasy, I even asked for a blower to be used during the last part of my shoot 🙂 … you know, the ones that make long hair fly all over the place.  I've always wanted to do that.  Haha.  I know I will probably never do this ever again, so it was a fantastic experience.
I wonder if the turnout would be that great if there was a similar model search event for guys?