I paid RM18 to feed myself to the fish today!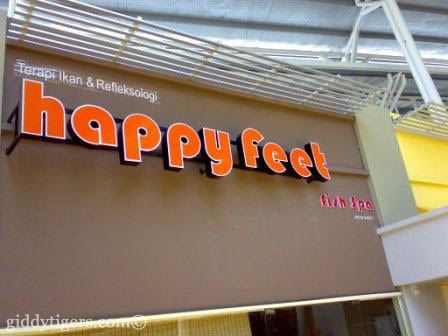 Well….not my whole self…just my feet…. Yup that's right, baby! … I visited the newly opened Happy Feet Fish Spa at New World Park today, and indulged in an errrmmm…relaxing session of foot therapy. When I heard that the fish spa was opening in Penang, I got all excited because ever since I read about Paris's experience with the fish at Kenko Fish Spa, I had been yearning to experience it for myself. And now that a similar spa is available in Penang, I don't need to wait till my next KL trip. I was curious to find out if the famous Garra Rufa fish or Doctor Fish would be able to give me smooth and glowing skin on my feet, and get rid of my calluses, dry skin and cracked heels. Quite a lot to ask of some tiny fish, eh?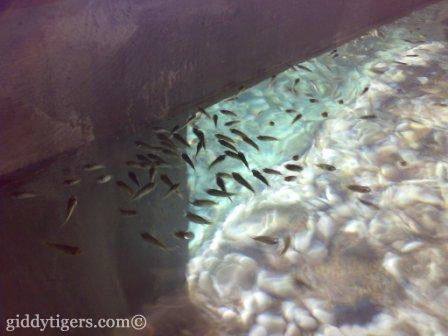 But when I asked my hubby if he was interested, he proudly proclaimed that he did not have any dead skin on his feet… bah. So then I asked Susan if she wanted to take the opportunity of the special opening rate at the spa, and she was more than happy to 🙂 . Happy Feet Fish Spa was offering the 30 minutes session at a special rate of RM18 till June 18th (normal price is RM28 per half hour). The spa is located right next to Nyonya Cafe and looks just like a regular shop lot from the outside, but the interior was decorated with little rectangular ponds and square orange cushions were placed in rows beside the pond for customers to sit on.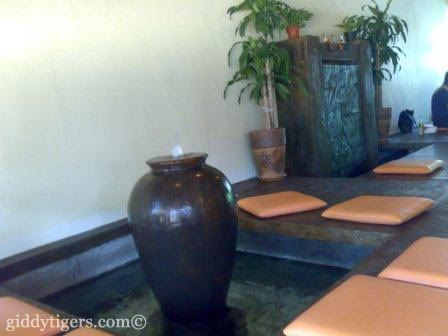 After paying the RM18, we were ushered to the back of the shop, given a pair of straw slippers, and told to wash our feet with jet sprays of water. We were also given a mini towel (not even the size of a hand towel) to dry our feet before and after the session.
Then we started the *therapy*. The first few seconds were rather ticklish, I would say, but not as ticklish as a foot reflexology session which I don't think I can endure. The Garra Rufa fish were rather shy at first, and only a few came to my feet. But then after a while, a host of them were going at it, nibbling and biting away the dead skin like nobody's business. Shows how much dead skin I have on my feet eh?
I realized that if I kept my feet very still, more fish would come, and of course, I welcomed them all, because it made my money's worth.
There were a few curious people who walked into the store and asked us what the experience was like, and one woman was squealing as she placed her feet into the water. Her daughter daren't even put her feet in!
And even though we paid for 30 minutes' worth, the lady manning the store was kind enough to give us an extra 5 minutes. Well, two pretty girls sitting near the door is definitely good publicity, is it not? 😆 In the end, she actually forgot about us, and we were still sitting there, enjoying the fish's nibblings when it was already 45 minutes past, so we took the initiative and got out ourselves.
Truth be told, my feet did feel softer and suppler, though the cracked heels did not miraculously disappear. Dang! I suppose I should not have expected one session to do wonders huh? Surprisingly though, the skin on my feet did not shrivel up, despite the long period in the water.
Did I enjoy the therapy?  Most definitely YES.  Would I visit the spa again? Maybe… well for one thing, they should fix the air conditioning in the store, because it was out just now. And I might even consider revisiting if they do introduce a full body treatment next. And guys, I think Happy Feet Fish Spa is a really innovative idea for a date 🙂
And whoa…how hungry do you think these fish are anyways? Or rather…what a load of dead skin I have on my feet….look at those Garra Rufa fish, still nibbling away after 45 minutes!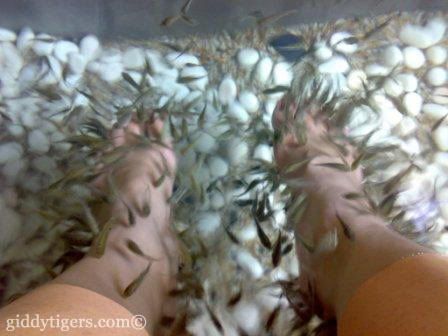 You may also enjoy these: