More and more people are opting to work from home now.  Well, that is….if they had a choice to.  It certainly is the more economical choice now, because you'll get work done and also not have to use up petrol driving to work, circling the company car park looking for a decent car park, and then walking all the way to the office building, wasting precious time doing so.  Okay, maybe that's just me talking about me…but working from home really needs a whole lot of discipline too, if you ask me, otherwise instead of working from home, you'll end up sleeping from home, if you know what I mean.
I've read articles suggesting that people who work from home dress in their normal work clothes, just to get themselves into the "mood".  But I don't.  It's just t-shirts and shorts for me, and it works just fine.  Last Friday, I worked from home and as always, I accomplished far more than I would have had I been cooped up in the office.
An additional impetus to why I prefer to work from home is that it allows me to experiment in the kitchen.  I am often alone when I work from home, so this allows my kitchen boo-boos, if any, to be forgivable.  And last Friday, I decided NOT to cook my usual instant Korean ramen, but instead, try a simple one-dish meal.  And of course, inspired by PB's gastronomical fare while she worked from home, I too could not resist taking pictures. 
I had seen this dish served as a dim sum dish a few weekends ago, so I figured it ought to be easy to emulate.  Just put several pieces of chicken (I'm not ashamed to say that I use deboned drumstick meat, instead of the healthier breast meat) on top of a bed of watercress.  Sprinkle with kei chi (isn't it obvious how much I love to use this?) and marinade with a dash of sesame oil, pepper, soy sauce and (optional) mushroom soup powder.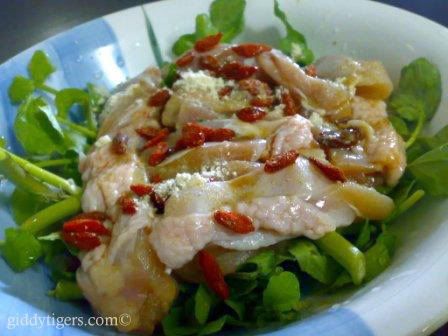 I steamed it on high for 15 minutes, and had it with rice.  Protein, carbs, vege and fiber, all in one meal.  Watercress makes lovely soup, so by steaming it, all the rich flavors of this vege will be married with the natural sauces of the steamed chicken, creating a yummy gravy I poured all over my rice.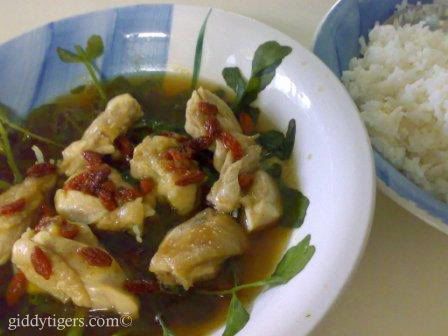 Now who says eating lunch alone is boring? 😛