It had been ages since my hubby and I have been on a romantic dinner date, just the two of us. Why, I think it should be over two and a half years now, i.e. since Ethan came into our lives. It's not that we don't want to, but it's not very romantic to run around after an overactive toddler during dinner, now is it?
So anyway, that was why I jumped at the chance when my hubby's department had a celebration dinner last Wednesday. It wasn't simply just ANY celebration, it was held at 1885 in the E&O hotel. A fine dining experience it was, but of course it came with a price … we had to leave Ethan with the baby sitter for a few hours.
But still, this gave my hubby and I the opportunity to dress up and enjoy the evening together. Well, it wasn't just the two of us ONLY though, because there were OTHER people around too, but still, it was a nice perfect evening of pampering.
It started with a cocktail session on the conservatory by the sea, which evoked memories of a similar cocktail session we had preceding our wedding reception at the E&O about 4 years back. Of course, it was less hazy then. Anyways, this time round, we had fruit punch and some kacang puteh appetizer, although I would have thought caviar would be more suitable for a fine dining kind of treat šŸ˜›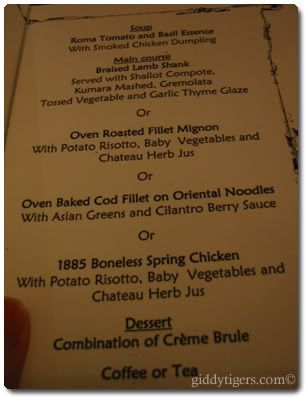 We were placed in a table of ten, complete with elegant cutlery and table decorations, and our table was right beside the wine cabinet (although this does not mean we can help ourselves to the bottles there). Here's the menu we had. Our entrƩes had already been pre-ordered, in order to save time. The lighting in the fine dining restaurant was a romantic amber hue, and it had chandeliers on the ceiling. There was even a pianist playing soothing jazzy tunes throughout that evening.
I hope they fed the pianist before he started playing!
First up was the Roma Tomato and Basil Essence soup, which had one piece of sui-kao (chicken dumpling) in it. Frankly speaking, the soup didn't look too appetizing and I was right. It tasted like very diluted ABC soup, minus the homemade factor. And honestly, I would have expected much more from the 1885.
We waited for close to an HOUR before our entrĆ©es arrived, and yes, by that time, we were all starving (and praying that the entrĆ©es had better be good) šŸ˜›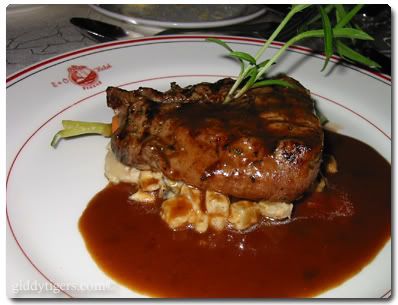 Here's the filet mignon I ordered. Medium. I normally prefer the rib-eye steaks, but since that wasn't on the menu, and I was craving for steak, this would have to do. And I was NOT disappointed at all. I am very particular about my steak being EXACTLY medium, and NOT well done, so the first slice I made through it, I knew I was in for a treat. The steak was perfectly done, tender and had so much flavour, I was actually sorry when I finished it šŸ™
My hubby ordered the cod fillet with oriental noodles. Our intention was to share a bit of each of our food, so we could have some variety. The cilantro berry sauce that the cod came with was excellent and went really well with the noodles. The cod was all right, I suppose, although my hubby loved it to bits. I, on the other hand, preferred my steak. YUM. Maybe it was the taste of the steak that drowned out the taste of the cod. For me, at least.
Dessert was a mini piece of crĆØme brĆ»lĆ©e with a slice of banana tart. Very good stuff. I was glad that our table had an absentee, so I hijacked the absentee's crĆØme brĆ»lĆ©e too. I couldn't taste the glazed sugar coating of the crĆØme brĆ»lĆ©e though, but I didn't really mind.
The evening would have been made lovelier if we had won one of the prizes (like the MacBook or the Nintendo Wii) in the lucky draw, but still, this would be one of the many many dates I would cherish for a long long time šŸ™'