Pregnancy does weird things to people. While I had quite an uneventful pregnancy the first time round, almost devoid of nausea attacks, my second pregnancy has so far proven to be a force to be reckoned with. I now not only have morning sickness, I actually have all-day sickness. My nose has transformed into the bionic nose, with the ability to smell the faintest of smells, and what's worse, almost all smells are revolting to me now.
I also discovered that I cannot stand the smell of garlic, although I loved it pre-preggers. So I can't cook with garlic now, because the smell of garlic on my fingers after cooking will make me pukey.
Strangely enough though, while I shun the very sight and thought of garlic, ginger has the opposite effect on me. And it wasn't too long before I realized that one of the foods I craved for now is ginger and spring onion chicken rice, more widely known as "kngeow charng kei pui" in Hokkien or "keong choong kai fun" in Cantonese. Truth be known, I can eat this every day and not be tired of it.
So when I discovered this Hochiak recipe in Pablo's Delicious Asian Food, I couldn't wait to try it out. Everyone knows that homecooked food tastes so much better than food bought outside. Okay la, plus the fact that there was a USD100 up for grabs that spurred my enthusiasm even further. Heh.
So last Friday, I tried the recipe out. It's called Ginger Sauced Chicken in Delicious Asian Food, and it calls for ginger juice, but unfortunately I did not have the tools to juice my ginger. I do so need to get a mortar and pestle soon. Anyway, I followed the recipe almost to the tee but to my horror, the finished product turned out horrendously, and certainly did NOT look like the picture in the Delicious Asian Food blog. See? Mine looked more like Tau Ewe Chicken:
Being the stubborn and determined person I am, I certainly wanted to try perfecting it. So two days later, while my two princes were off to dreamland, I attempted to dish out a respectable looking plate of Ginger Sauce Chicken. Figuring the blackness could be due to the fact that I had reused some of the oil used to fry the chicken to make the sauce, I decided to use fresh oil for the sauce this time round. Instead of using ginger juice to marinade the chicken, I sliced up a LOT of ginger real fine, and mixed it with the chicken fillet, together with a dash of soya sauce and pepper. And oh, I omitted the garlic in the recipe because of very obvious reasons 😛 .
And here are the results of my labor: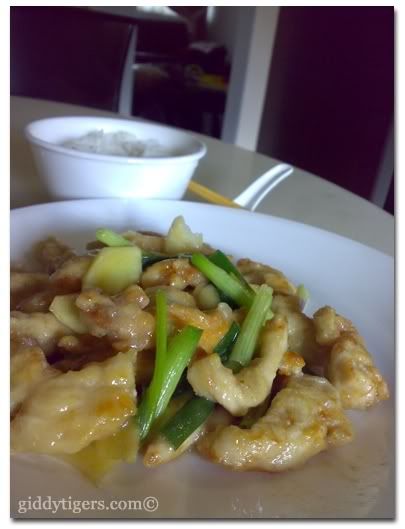 I had it for my tea-time and supper that day. And hubby said it was definitely better than the first attempt. Hee.
***
By the way, wanna put yourself in the running to win USD100? Go check out Delicious Asian Food now, and cook yourself up a storm!
You may also enjoy these: