Thus ends my first week at work.  With me starting work and all, I figured it would be good to have packed lunches (read: bento) for my hubby when he is at work.  After all, I wouldn't have that much time to cook lunch, whether I am onsite in the office or working from home.  So I modified my cooking patterns and decided to cook in the evenings for dinner and have some leftovers for lunch the next day.  It required some planning of course, and also, I had to wake up a little bit early every morning to prepare the food, but I know the sacrifice would be worth the while.  Besides, I try to prepare whatever I can the night before, just so I could sleep in a little bit longer.
In the US, it really makes sense to bring a bento in for lunch because if we eat in the cafeteria, the prices are pretty steep, and on top of that, you have to pay sales tax too!  There is no such thing as an employee rebate here as well.  So bringing a lunch box into the office is a sensible thing to do, PLUS you get to enjoy homecooked food.  And of course, I get to do some bento-ing too!
My hubby and I are not into the TOO cutesy stuff of bento, rather we just prefer the simple meals that work to fill our tummies.  Besides, I don't have to pack bentos for Ethan just yet, because his daycare takes care of all his meals.  On the other hand, even if I did have to pack Ethan a bento, he is not one to care too much for cutely shaped stuff.  Trust me, I have tried and they don't work.  The most would be a nice adorable food pick or two, but that's about it. 
Anyway, so here's my bento story for the week:
Monday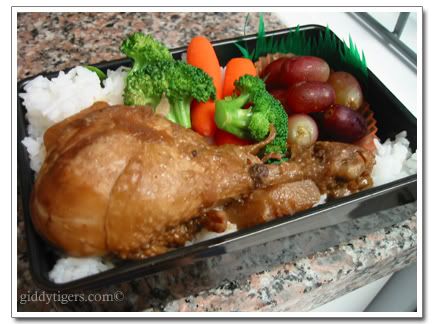 This is hubby's bento for Monday, consisting of steamed rice with chicken stew, garnished with blanched broccoli and baby carrots.  I threw in some juicy seedless grapes too.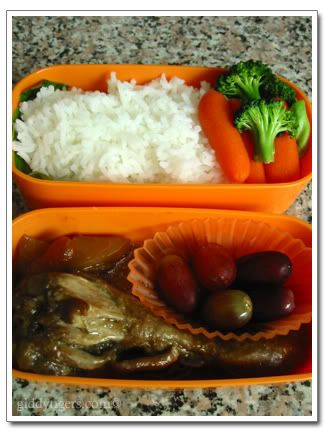 Monday was my first day at work too, so I had a simple bento made for myself as well.  It's the same as what hubbs had but in a smaller portion.  And I used two of the bento boxes I bought during my Daiso outing the other day for both hubby's and my bento.
Later that evening however, hubbs complained his lunch was not enough as he was already hungry at 2:30p.m.!  That means I need to get one of those two-tier men's bento boxes for him…you know those that come in black or greyish hues and cost a fortune on ebay?
Tuesday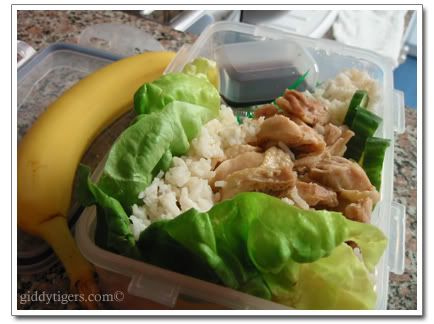 This is what hubby brought for lunch on Tuesday.  It's his favorite homecooked Hainanese Chicken Rice on a bed of lettuce with some chopped cili padi in a small container and of course, some soy sauce to go with it.  I placed a banana in his lunch bag too in the hope that it would be more substantial.
Wednesday
My hubby's lunch for Wednesday was a very simple meal: steamed rice with two side dishes: tau-ewe-bak (soy sauce pork stew) and stir-fried pumpkin with dried shrimp and minced turkey meat.  Tau-ewe-bak goes really well with sambal belacan, so yeah, that's what's in the little orange container in the corner right there.  And of course, I added the obligatory banana.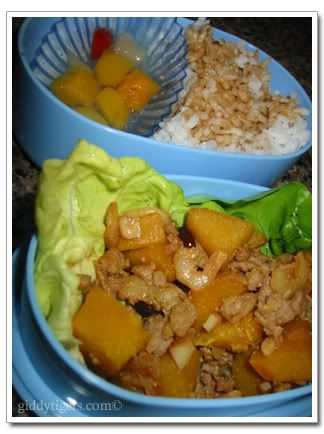 There wasn't any more tau-ewe-bak left for me, so I only put its gravy on my rice.  Of course, I packed a little bit more pumpkin for myself and added a cup of fruit jelly too.  Oh yeah, and mine, I brought to the office in a little warmer bag, like so: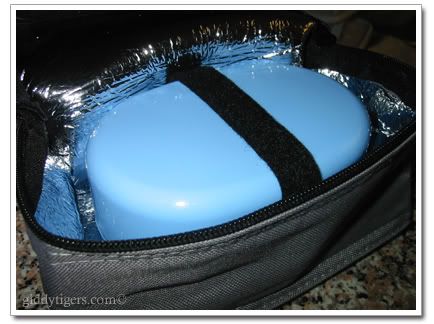 Didn't really keep the stuff warm as it promised, but still a very handy little thing to carry around.
Thursday
I had an early meeting on Thursday and I was gonna attend the conference from home, so I made sure I got lunch packed and ready early too for hubby to bring to work.  This is claypot chicken rice, garnished with spring onions and cilantro.  And how can we not have claypot chicken rice without cili padi? The steamed baby carrots are added for color.  And isn't it obvious that I am trying to finish off the bananas in my house? 😛
Friday
The cook is on official rest today because hubby has a team lunch every Friday, so I didn't cook.  I went out for Indian food with my colleagues today for lunch too, in fact.
Here's to more bento adventures in the weeks to come!