(Flashback…Two days before Thanksgiving)

Supermarket cashier to me: So, are you all prepared for Thanksgiving?
Me: Sorta.  Well, more unprepared than prepared, really.
And I wasn't kidding.  While most of our friends who relocated here decided to go for a vacation elsewhere during the long Thanksgiving holiday weekend, my family and I opted to spend Thanksgiving, well…the traditional way…at home, with family…and FOOD.  This was my first Thanksgiving ever in the US and I had only come to realize what a big deal it was here.
So, if I wanna go traditional, it would have to be traditional ALL the way.  I decided to attempt roasting a turkey.  I bought the smallest turkey I could find (about 10 lbs), and it only cost me $5.99.  Actually the supermarket where I purchased it from had a turkey promotion where all turkeys weighing below 16lbs were priced at only $5.99.
And while I was at it, I got myself one of those turkey timers too.  These little babies will pop out as soon as the meat is done, and ensures that the meat is not too dry or (heaven forbid) undercooked.  I wanted to get one of 'em meat thermometers, but they were too pricey.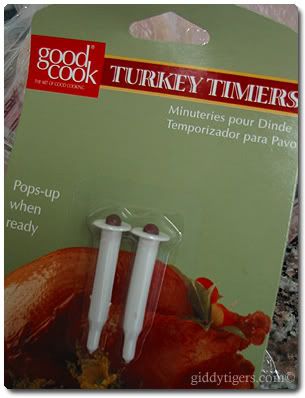 Then I started collecting tips about roasting a turkey from everywhere.  I reviewed recipes from the internet, asked co-workers and friends, and hubby even got me some tips from the TV.  Simple American even graciously said I could call his wife should I be in need of any turkey SOS!
Well, one of my co-workers told me to soak the thawed turkey in brine.  So a day before Thanksgiving, when I had already thawed the bird, I soaked it in a little salt water, and left it overnight.  Actually I believe the turkey I bought had already been basted in some flavoring of some sort, but hey, no harm enhancing the flavor even more, huh?
I woke up nice and early (thanks to Ethan) on Thanksgiving day, and was all eager to get the turkey roasting.  Lilian had given me some splendid tips on how to roast a turkey to perfection, and of course I trusted her because she has got proof that hers turned out really nice.  She said I need to stuff some butter between the skin and the meat of the turkey, and then I need to cover the turkey in bacon strips before roasting.  So, see…this is how I did it…
Looks about right, doesn't it?  I also put some chopped carrots and potatoes in the baking dish while roasting.  This is to absorb the juices of the turkey, thus perfecting the gravy (this tip from Martha Stewart, according to hubby) 😛
And what did I do with the crisp bacon afterward?  Well, I ate some of it (was too salty anyway), and sprinkled a bit on the clam chowder we had.  The rest of the bacon?  Still sitting in the fridge…I'm still undecided what I want to do with it.
So anyway, after all the toiling in the kitchen, and about 4 hours of turkey roasting, this is what was served for dinner, as our main course: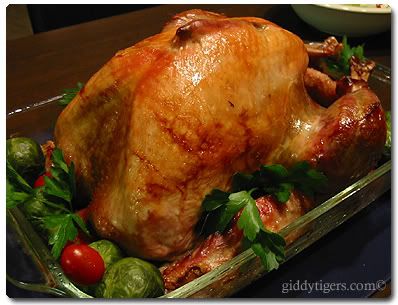 Of course we had other dishes too, it being Thanksgiving and all.  Thanksgiving is like the western-styled Chinese New Year reunion dinner, where families gather and stuff themselves full of food.  So what I had on the table was western-styled food.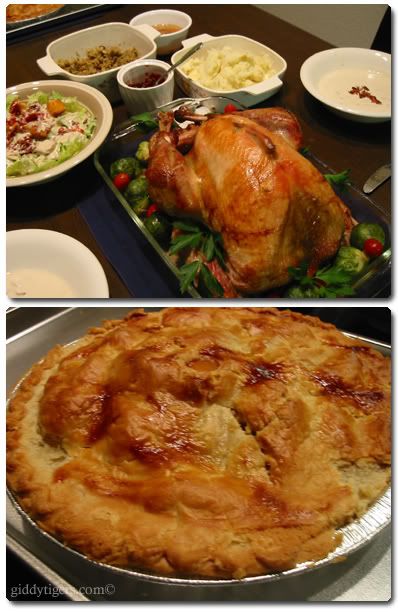 Roast turkey garnished with brussel sprouts, cherry tomatoes and parsley, served with the compulsory cranberry sauce, mashed potatoes, multi-grain turkey stuffing, BLT caesar salad (lettuce, sun-dried tomatoes, cheese, croutons and dressing, and clam chowder.  For dessert, we had apple pie with whipped cream (lots of it).  YUM!
We sure had a lot to be thankful for!  Of course we could not finish the turkey in one sitting, not even till today.  in fact, I still have some of the turkey meat in the fridge, and I used it for making sandwiches.  My first Thanksgiving is gonna be one that I'll never ever forget!
You may also enjoy these: