I find myself running out of ideas to cook these days, and so I decided to try out some new and simple recipes a couple of days ago.
I remember it was late that evening when I got back from work and I had to whip up something nice and warm in a really short time.  I remembered I had bought a packet of Chinese Herbal Mix for stewing chicken recently, and decided to use it with the easy-to-make fail-proof recipe for Steamed Herbal Chicken I saw at HaveYouEaten.net
There were more herbs in my herbal packet than was required in the recipe, but I just tossed everything in.  It was also my first time using aluminium foil for steaming chicken, and the aroma that exuded during the steaming process was simply heavenly.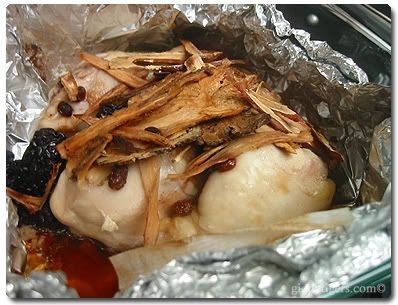 Needless to say, the piping hot aromatic dish was the perfect complement for our dinner that night.  In fact, I wished I had put in all 6 pieces of chicken drumsticks instead of just 4!
But I did use the 2 leftover drumsticks for lunch the next day.  Again, using the rarely touched supply of aluminium foil and wok steamer, I experimented with another simple recipe:  Steamed Chicken with Rice Wine Sauce.  I didn't have ginger on hand, so that was omitted, and I had to substitute red chillies with jalapeno chillies, so the resulting dish did not look as aestehetically pleasing, but don't judge a book by its cover cuz it still tasted really good.  Loved the sauce especially!