I'm just gonna fill this post with pictures of food, because after all, that is what most people talk about during Chinese New Year, right?
We had a dinner gathering this evening at a nearby restaurant called Chili Palace with some of my hubby's colleagues.  And if you think about it matter-of-factly, taking into account the time difference between Malaysia and the US, we actually had a reunion LUNCH, according to Malaysian time!
Not the typical Chinese New Year reunion dinner with dishes like jiu-hoo-char, too-thor-th'ng and the like though …  Oh, how I miss those!
The dishes we were served tonight were mostly chili-inspired, but what would you expect from a restaurant with the name "Chili" in it, eh? 
The primary objective was to get our tummies filled, and we definitely accomplished that!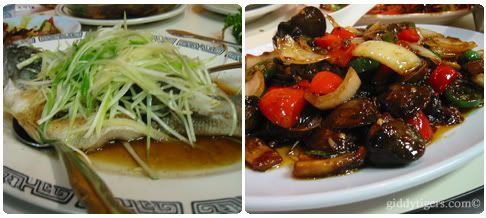 Although…I'm still very much craving the pineapple tarts I always pig out on during Chinese New Year!  SIGH…
So there you go…I've posted my Chinese New Year feast pictures…now I can't wait to drool over what everyone else had…. here's wishing a happy and prosperous Chinese New Year to everyone, all the way from the US! 🙂