Like a typical sinusoidal graph that has its ups and downs, life's experiences takes us on exciting journeys now and then.  But with every plunge into a dark ravine, we all pray that the ascent upwards towards better things is not far off.
On Friday afternoon, when I saw these gorgeous blooms right outside my apartment, I knew it was a sign that GOOD things would come my way during the weekend.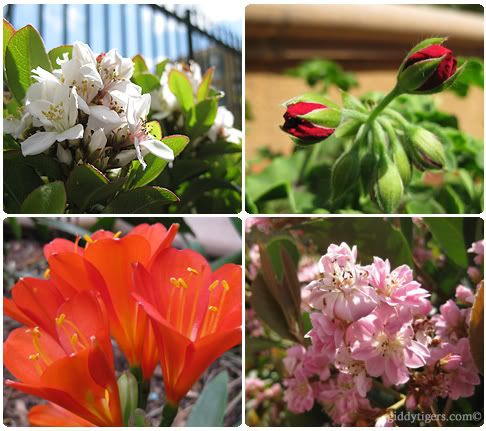 …and I was right!!! 🙂
My family and I had a splendid and fulfilling American lunch on Saturday.  Believe it or not, this was the first time I had had an authentic American meal since I relocated here more than 6 months ago. We went to Applebee's where they had the 2 for $20 deal (2 entrées + 1 appetizer for $20).
My parents shared one set, while my hubby and I shared another.  And everything was super delicious!
From the mozzarella sticks and boneless buffalo wings appetizers served with yummy ranch dressing down to the riblet basket, the steak and the fries, we thoroughly stuffed ourselves to the brim!  The photos of the ribs and buffalo wings don't do them justice though…they certainly DO NOT taste as horrible as they look!
After lunch, we headed to the Gilroy Premium Outlets, where I managed to get TWO items I had been yearning for:
Item 1: Levi's 501 in *most wanted* color
My hubby and I had been looking for this particular color of 501's for the longest time.  We have seen it on sale a few times before, but we have never found our sizes available.  So when I saw the 501's on sale for USD29.99, and I found the very color we wanted in my size, I could hardly believe it!  In fact, I don't even know how to describe this color – it's like a destructed washed dark blue, with a tinge of yellow and green, plus it has some *worn* parts which were put there on purpose.
Hubbs and I each got ourselves a pair, but unfortunately I can't fit into mine yet 🙁
I'm giving myself a few more months…but this new pair is definitely inspiration for me to get into them soon! 🙂
Item 2: A brand new Coach!
I'll be honest.  I had no intention of getting a Coach bag that day.  I had been into the Coach factory outlet before, and I did not really fancy the designs there then.
But that Saturday, I stepped in anyway, despite the long queue of people waiting to be let into the store.  Most of the items were on sale for 40-50% off the tagged price.  I weaved my way through the store pushing my baby stroller, and then suddenly I saw it: the little shoulder bag from the recent exclusive Coach Resort collection!
… and it was on SALE at a discount of 50% off the tagged price, which was already more than 50% off the retail price.
I was torn between getting the shiny black one or the pink one (Punch), but in the end I chose the one in Punch, because it looked so stunning against my black coat.  Plus, I did not own a pink bag 😛
This set me back USD54.99, when the original retail price was USD238.00.
Yes, I still can't stop smiling.