The emergence of modern kopitiams, as I like to call them, has provided an opportunity for food-lovers to enjoy their favorite hawker-style food in a cozy ambience.  More importantly though, these modern kopitiams do take into consideration the fact that families with kids need to be comfortable too, and hence they provide things like baby chairs and are mostly air-conditioned.
Our relationship with the modern kopitiam started with Old Town, and since then we have frequented this kopitiam almost every weekend.
However, about a month or so ago, along came a kopitiam by the name of Pappa Rich, and since it was located just down the block from the Old Town we usually go to, we decided to give it a try.  The neverending crowd of patrons served as a sign that the food was not bad.
And now we're hooked.
Not only does the food taste better than Old Town (IMHO) but Pappa Rich has taken the liberty to include a very important detail in ANY restaurant: a wash basin and a toilet (both of which are missing in the Old Town we used to go to).
Take a look at some of the food they serve:
Hainanese Chicken Rice: Both my kids LOVE this!  Delicious steamed chicken rice served with bean sprouts and some soup.
Roti Bakar with Butter and Kaya: We simply LOVE this!  They use the thick soft white bread (roti Bengali), just lightly browned, and there's some butter and kaya on the side.  My son only wants butter (no kaya), so this is perfect because we can mix and match the ratio of butter:kaya on our bread to our liking.  For people who can't get enough of the kaya, they also sell the kaya by the bottle.
Curry Laksa: This tastes much better than Pappa Rich's Assam Laksa, mostly because the Assam Laksa was way too spicy for my liking.  We usually order either this Curry Laksa or the Dry Curry Mee (no pictures because the presentation is not much to shout about).
Nasi Lemak:  We ordered this just once, but that was enough to convince us that it tastes superb.  It's definitely miles better than its Old Town counterpart, that's for sure, and the winning ingredient is the tasty chicken curry.
Milo Dinosaur: This is my son's favorite drink.  It's basically iced Milo with a mountain of Milo powder scooped on top.  Very tasty, but only for the Milo-addict 🙂
This is my son demonstrating how to enjoy this drink:
And our dessert du jour: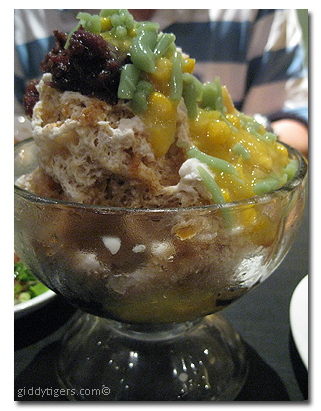 Pappa ABC:  Delicious ais kacang done just right.  Very generous with all ingredients and definitely a must-try, provided you still have the stomach for it at the end of your meal! 🙂
We've never encountered a time when Pappa Rich wasn't filled with customers; yes, it is THAT popular… Pappa is definitely very RICH now… 🙂
Oh, by the way, just in case you were wondering, NO…we didn't eat all the food above in one visit.  With kids in tow, I have had to space out my food photography to several days. 😛