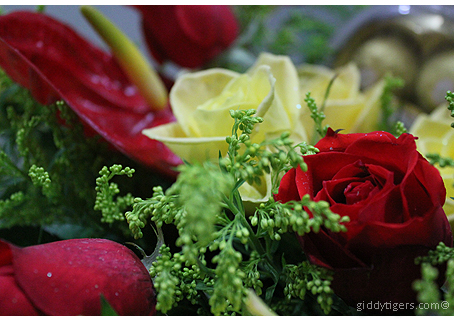 For the next few days, my living room will be a little bit more colorful, because I have a pretty floral basket sitting in one corner.
I had been selected as one of the 10 finalists of the recent Gurney Plaza Love Poem contest, and we each had to present our poems on stage yesterday.  I chose to sing my poem…well, part of it anyway.
At the end of it all…
I didn't win the 0.3 carat GIA certified diamond.
I didn't win the 3D2N stay at a posh hotel, nor did I win any of the dining vouchers.
I didn't win the grand prize or the 2nd or 3rd prize.
I only won the consolation prize.
…which saw me walking away with 2 bottles of Davidoff perfume, cash vouchers, and a chocolate floral bouquet (plus a free American Idol-like audition scenario – hahaha)
I had fun and basked in my 2 minutes of fame when I stood on that stage in Gurney Plaza and rendered my love poem in song.  And I won the hearts of my loved ones.
And that's all that matters, yeah? 🙂