A few days ago, I chanced upon Charmaine's delicious-looking homemade "Bak Kwa" in Facebook.  I checked out the recipe and was intrigued that it didn't look too difficult to make.
"Bak Kwa" is the Hokkien name for pork or chicken jerky, and is very popular especially during Chinese New Year.  I remember my Mom made some "Bak Kwa" when I was a little girl and she used the charcoal grilling method.  I remember helping her with some of the grilling and I clearly distinctly remember the heat and the perspiration.
So when I saw that Charmaine's recipe (which is adapted from Nasi Lemak Lover) did not involve the charcoal grill and that I could make the "Bak Kwa" using the oven, I pounced at the opportunity.
And here's what my first attempt resulted in:
Hubby said the smell of fish sauce in the "Bak Kwa" was a little too overwhelming though, but overall, I think it's a good try.  Of course, it doesn't taste exactly like the commercially-purchased ones, but it did bring a certain feeling of the Lunar New Year to our home.
Besides, there's nothing quite like eating "Bak Kwa" sandwich with homemade bread! 🙂
I did substitute honey for maple syrup in the recipe, so that too might account for the difference in taste.  Still, it was a great experience sans the heat of the grill! 😀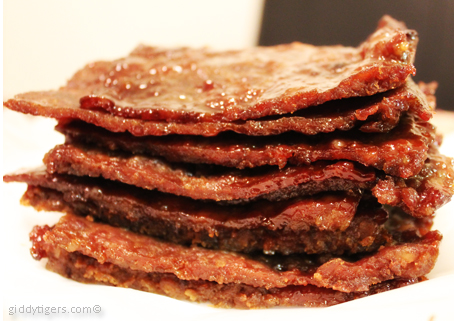 Had any good "Bak Kwa" lately? 😀