Hey peeps.  Yoohoo…I'm still here. 🙂
Today, I bring you a lighthearted and (hopefully) enjoyable post to read, just to start the week ahead with.  Who says Mondays have to be boring?
Hands up those of you who loves to sneak a peek into the bags of other people?
Me?  I'm guilty as charged!!  Hehe…so today's post is inspired by Tine's recent post, which I enjoyed reading tremendously.
So back to my bag…well, the one I am currently carrying anyway.  It's a Coach Gallery Patent Tote in a gorgeous red hue, a Christmas present from hubby.  It was love at first sight when we saw it at the Coach store several months ago.  There were two sizes of this bag, but I chose the slightly smaller one, because I figured the larger one was way too huge for me. Plus I was trying to reduce the stuff I was carrying in my bag anyway.  It is monogrammed, yes, and although I am not one to like carrying monogrammed bags, this one was tastefully done and looked really chic.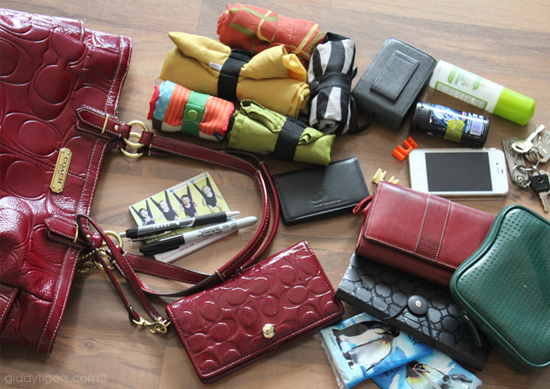 Inside my bag:
A variety of reusable bags: Envirosax and Rume bags.  I use them mostly for grocery shopping each week (yes, I do use ALL of them).
My Canon point-and-shoot camera.  Yes, I can now use my iPhone for photos on the go, but habit has made me still lug around my trusty p&s.  Plus it's not all that heavy.  And there's also that history bit 🙂
Hand sanitizer in a foaming-pump bottle: an essential item when you're always out and about with kids in tow.
Chewing Gum: to exercise face muscles and for fresh breath!
iPhone
House keys and car keys
Green Makeup Bag – one of the free bags from Clinique a long time ago.  It holds the most basic of basic makeup: lipstick, lip balm, mirror and a mini tube of Vaseline lotion for moisturizing my hands on the go.
Red leather Coach wallet
(Another) Red Coach wallet (that matches the red bag)
Black Coupon Organizer
Packs of tissue: I make it a point to carry at least 2 packs all the time.
Small black card organizer
Notebook and a couple of pens
Training chopsticks holders.  I got these from US and have them in my bag in case my kids need to use them at restaurants.
So what's in YOUR bag?  Do share and let me know if you do, so that I can have a peek too! 😀