Last Tuesday evening, I received a phone call from someone in Sunshine Square, saying that I have been picked as one of the winners for their lucky draw contest, held in conjunction with the upcoming Chinese New Year. Thing is… my price had not been determined yet, and I was asked to be present for the LIVE prize determination and prize giving ceremony on Saturday. There were 21 winners shortlisted for the grand draw and the GRAND prize was worth RM8,888 in a combination of cash, vouchers and as hamper.
Whoa…I definitely wanna go. Pete was asking if I dreamt of winning the grand prize…hehe…sure got la.
It had been some time since I won a contest. I LOVE entering contests, especially those requiring a slogan since I don't have to rely on pure LUCK to win. So far, I have won CDs, cosmetics and skincare products, books, and the best prize so far which I'd won: a trip to Club Med Cherating for 2 (this one I won on LUCK).
So anyway, off we went to the LIVE thingy on Saturday. It was jam-packed cos it also coincided with the one-day sale. Lots of RED everywhere to mark that Chinese New Year's coming.
After waiting for like half an hour for the draw to start, it finally did. There were 3 groups of angpows displayed on the stage:
Group 1: The VIP would pick and angpow from this group to determine which shortlisted winner would go up to the stage.
Group 2: The shortlisted winner would pick an angpow from this group to determine the prize.
Group 3: Only for 4 main prize winners (Grand, 1st, 2nd and 3rd prize) to pick.
I think I might have some superhuman powers cos I could FEEL like the first name called would be mine. Aiyo…I didn't wanna go first, but what to do…
So I picked an angpow, and got…… RM100 shopping voucher (6th prize) – Not the grand prize la, but better than those who got RM50 vouchers..Nyeh-heh-heh….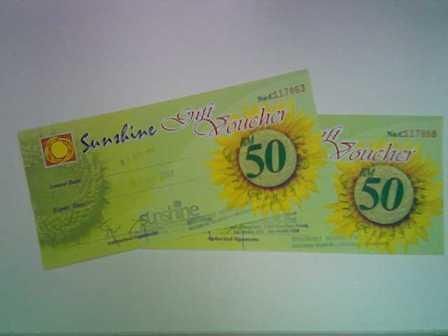 Funny thing though, Pete noticed. None of the grand prize winners went like "YesssSSSSSS!!!!" and jumped up and down. Never mind, next round I enter with his name and then if he gets to go for the lucky draw, and wins…he can show them how it should be done.