We spent Saturday shopping at Queensbay Mall. I decided to utilize my Jusco Members' Day Privilege voucher which entitled me to get 15% discount for almost everything in the departmental store and 5% discount in the supermarket section. Temptation (and vanity) got the better of me, and I ended up buying a new swimsuit for myself. It's a black halter tankini and I got it for 15% off the retail price! šŸ™' Better yet, I got it at size M, which is my pre-pregnancy size… I was wearing a size XL swimsuit when I was preggers, so naturally I was elated. I just might go swimming tomorrow…. hehehe…
Oh yeah… have to add this: we had dinner at Friday's again where I redeemed/claimed my FREE Sizzling Fajita Tower. On our previous visit to Friday's, we were lucky enough to be selected as a recipient of this free entree, which costs RM30.90-RM32.90, depending on whether you order it in the chicken, beef or combo variety (I think they also have shrimp, but let's not deviate, shall we?). Anyway, all I had to do was to log in to the Friday's survey site, answer a few questions, and when I was done, a code was generated. This code needs to be copied onto the receipt and brought along to any Friday's outlet to claim the meal. Ain't that great?
I ordered the Sizzling Fajita Tower Combo (Beef + Chicken) and man, it was fantastic! It was served in 3 layers:
Top layer – Cheese, Guacamole/avocado, salsa, sour cream
Middle layer – Meat filling (Grilled chicken + beef strips) with onions and capsicums
Bottom layer – 4 warm flour tortillas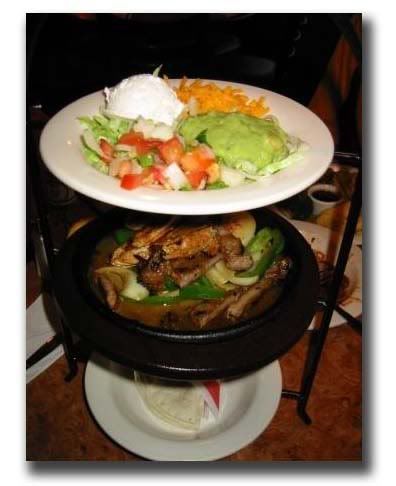 Note of caution though: Be EXTREMELY HUNGRY if you wanna order this.