Last weekend, a week after we bought our new cell phones, this ad appeared in the papers: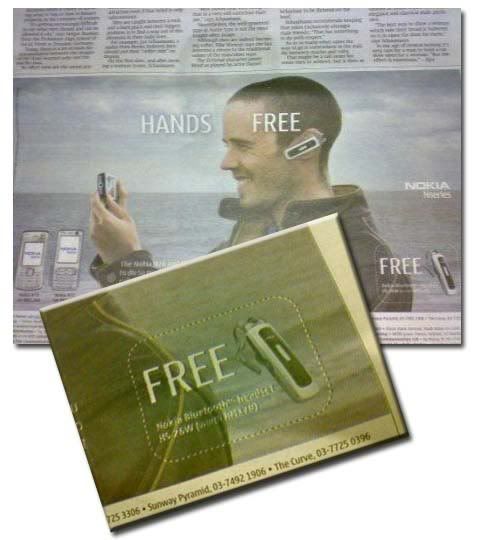 I could hardly believe my eyes! Very simply put, I had apparently missed out on getting a free Nokia Bluetooth set which was now given free with a purchase of the Nokia N73! My hubby called the guy who sold us the phone and asked if he could give the set to us anyway, because it was only a difference of a few days. After all, we had purchased 2 cellphones from him. So last Saturday, we made a trip to Gurney Plaza to the phone shop to see if he could give us the bluetooth set. After a LONGdiscussion with his boss, he told us that he unfortunatelt could not give the free set to us because the free gifts actually came from Nokia and not from his shop, although his shop is an authorized Nokia dealer. If the free gift had been offered by his shop, he could give it to us, no problem. He added that the offer for the free Bluetooth set had started on May 15 2007 and since we had bought it earlier, we did not qualify. I then explained to him that it was only a 3-day difference from the date we had bought the phone to the date the promotion started (we bought it on May 12th), and told him that the phone was for Mother's Day šŸ˜› Obviously we could not have waited till after Mother's Day to buy, right? And obviously, there was no way we could have known about the upcoming promotion at the time of the purchase. My hubby and I asked him to try asking his manager and Nokia again to see if he could bend the rules a bit in our case. He told us he would try and contact us on Monday with the outcome.
My hubby said that it would be just our (bad) luck and bad timing if he could not give us the free Bluetooth set, but at least we had tried asking for it. Well, our persuasion skills must have been spot on and lady luck must have been smiling on us šŸ™' , because while we were still walking around Gurney Plaza, my hubby received the following SMS: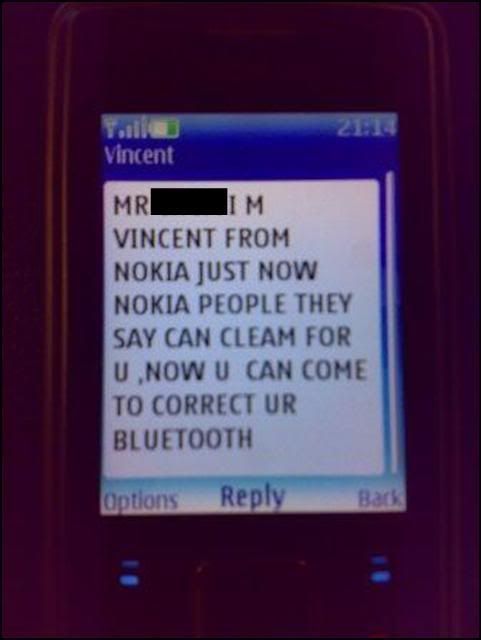 Woohooo…….!!!! Ain't that cool?
One more new toy to fiddle around with! And fiddle around with it I did…I tried playing around with it last night and had quite a hard time placing the device to my ear. Then I tried calling my hubby and although he could hear me loud and clear, I can't understand for the life of me why I could not hear him, even though I had turned the volume way up loud. I couldn't even redial a number using the bluetooth set. Hmmmm…..will try it again tonight….
You may also enjoy these: