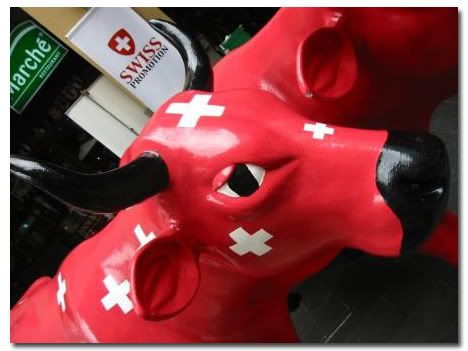 Since our visit to Marché in Singapore, hubbs and I have been craving the Bundaberg Root Beer sold there. I have also been craving for the calamari, grilled chicken breast and the swiss cross buns, more so because during our second visit there, I was not feeling well and thus, did not manage to eat much.
So when we were planning our one-day trip to Damansara at The Curve last weekend, I straightaway decided that a meal at Marché would HAVE to be factored in. Somehow.
Now how did Marché The Curve compare to Marché VivoCity?
It was a disappointment. Really. For starters, the one item we were looking forward to, the Bundaberg Root Beer, was nowhere to be seen. We did see the bottles on display though, but that was a really mean decoy because the restaurant supervisor told us that those were empty bottles! Dang…
Marché The Curve used a paper card system instead of the ATM card-like system employed in Singapore. The paper card was way bigger and harder to handle compared to the convenience of the ATM card-like system.
No calamari, and even though the grilled chicken breast was on the menu, I was told that they were out of it that night. The swiss cross buns was not soft, and felt unfresh. it was sticky on the outside and dry on the inside. Of course it could be masked if I dipped it into the soup, but that's another story altogether.
The mushroom soup was okay, but not as thick as I would have liked it to be. I did like the dried bread cubes which I sprinkled liberally in my soup though. That certainly added some texture to the soup. The grilled sausages were all right, but felt like they were fresh from a freezer. The ones in Singapore tasted meatier and more authentic in comparison. I did like the veal sausage though, and that one went down really well with Ethan too.
That being said, the two items that get the giddy thumbs up from me are:
The sautéed mushrooms. Well done, tasted not too mushy and went down really well. It cost only RM8++, and was worth every sen of it. My BIL commented that some evaporated milk could have been added into it.
The crépè with ice cream. I ordered the mango and banana crépè, which was served with chocolate ice cream, and drizzled with chocolate and raspberry sauce. Sinful, yes… and delicious too. Unfortunately the ice cream that it came with was not the Movenpïck kind. I was told that I had to pay an additional RM8 or so, if I chose to have a scoop of Movenpïck ice cream added.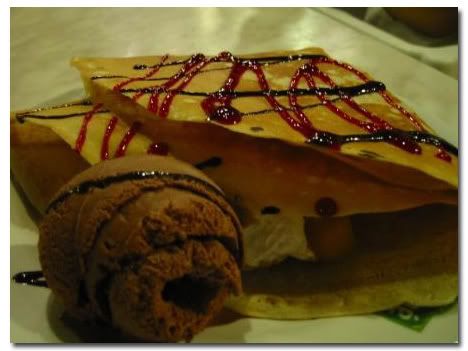 And what about our root beer craving? Well, we saw bottles of it on sale in Cold Storage, so we grabbed a few then and there. 🙂 Don't need no Marché to serve us 'em root beer, huh?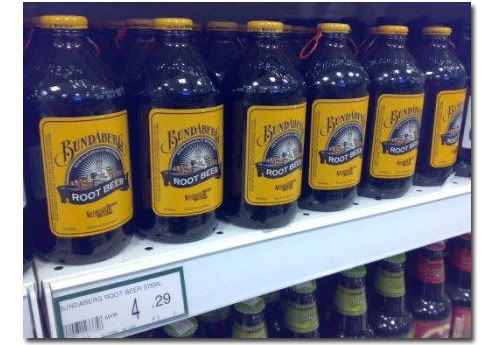 You may also enjoy these: