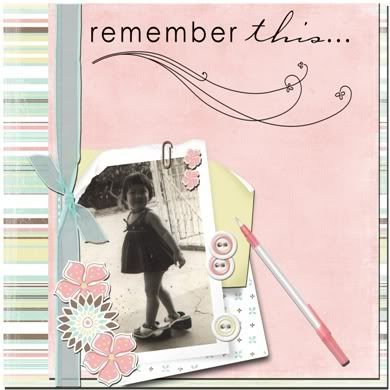 Scrap Credits: Ronna Penner's Express Yourself from Scrapadelic.com
I didn't really like that Cher song actually but the melody just came to me when I started writing this post. Now I will be inundated with it for the rest of the day. Sigh. I wish I could turn back time 5 minutes ago when that song didn't come to my mind. Haha… Nah, just kidding.
Well, anyway, this tag came from Huisia, who wanted to know that if I had Hiro Nakamura's powers, which age would I choose to return to, and why?
Hands down, definitely I will choose to return to the time when I was a little girl, probably at age 4 or 5. That's when I had no worries at all in the world, and lived only to play and sleep and eat. No deadlines to meet and nobody bugging me on the completion date of tasks. No need to wake up early for meetings, dragging my weary self to work feeling like a zombie. No need to worry about car loans and house mortgages. No need to make important decisions like which life insurance policy to take, or which unit trust fund to invest in. The most important decision I had to make was probably to choose if I wanted to wear my own dress shoes or my Mom's platform shoes. Ah yes. I was a little vainpot even back then.
And now I bequeath the powers of time travelling to:
*******************Start copy************************
Instructions:
Title: The Age That I Wish To Go Back To
Requirement: Write about the one age that you wish to go back to and why?
Tag Mode: 5 bloggers
1st – You leave their blog and post link and add to the list below.
2nd – Let the blogger you want to tag know they been tagged by comment in their blog or etc.
The Age that they Wish to Go Back to:
Amidrin wish to go back to age 22 to correct back some mistakes in life.
Lemonjude wish to go back to age 6 to enjoy kid's life.
Hui Sia wish to go back to age 16 to meet her first lover again.
Giddy Tiger wishes to go back to a childhood life with no worries in the world.
*******************End copy************************