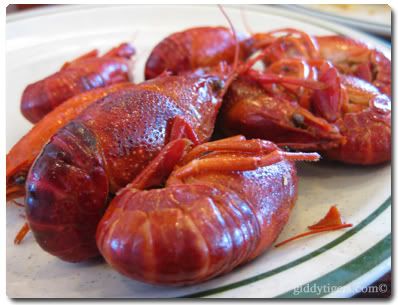 Hubbs and I went for a splendid lunch buffet last week, where I tasted crawfish for the very first time!  They look like prawns, don't they?  Tastewise, it's somewhere between that of a prawn and a crab.
This is how people eat crawfish:
Remove the head of the crawfish.
Press gently on its body through the shell and massage it, to ensure the meat is dislodged from it's hard exterior.
Bite on a small portion of the body, and with one swift deft motion, slide the meat out from its shell with your teeth.
And this is how I did it:
Remove the head of the crawfish.
Take apart part of the head still stuck on the body.
Proceed to massage the body as instructed,
Bite a small portion, and pull gently.
When the meat did not budge, massage a little bit more.  Hands are all dripping with the juice of the crawfish now.
Try biting and pulling again.  Didn't work.
Use fingers to peel off the shell from the body.
Remove the piece of crawfish meat and put into mouth.
Wipe fingers clean.
Anyway, why is a crawfish called a crawfish?  It's not a fish…
Why don't they call it a crawshrimp or crawprawn?  Eh?
You may also enjoy these: