While busy occupying myself with packing and shipping stuff, I'm glad I found time to simulate the packing of my expressed breast milk (EBM) before the actual day we are leaving.
I got a 9qt Coleman cooler and placed the Avent VIA cups of frozen EBM at the bottom and then put as much Techni-Ice as possible on top.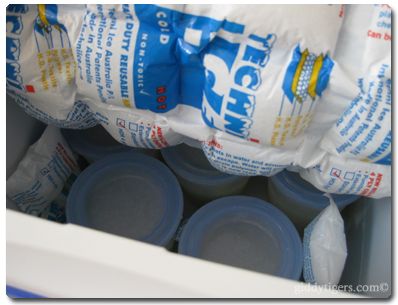 See?  There's still some space between the cups of EBM, which is a no-no for transporting them.  I want them to not move around as much as possible.  So I prepared more Techni-Ice to place in between the cups.
I know what you're thinking…why go to all that trouble to take just a few cups of EBM back, right?  I don't have a lot because I breastfeed Hannah directly, and so I only expressed milk the few times when she overslept or if I felt engorgement.  So I only have 5 cups of about 4-5oz each.  All breastfeeding moms are kiasu creatures, so I take back whatever liquid gold I have, never mind that the cooler will take up a considerable amount of space in my check-in luggage.
Oh yeah… did I mention I am checking in the EBM?  I'm praying the lots and lots of Techni-Ice I am using to keep the frozen EBM frozen will do its job beautifully.
Sigh…can't believe that we will be leaving in THREE days' time!
Tomorrow, the movers will be coming over to pack and ship most of our stuff back in containers.  I am still in the process of finalizing the shipping list, … can't believe how much we have accumulated over a span of just nine months! 
Tonight the PC will be packed up.  That means no more internet access for about 2 weeks, and no more blogging until then.
Although we are heading home, I can't help but feel a tinge of sadness leaving this apartment that has been our home for nine months.  It was here that I had suffered labor pains while carrying Hannah and gave birth hours later.  We had arrived in the US a family of three but we are leaving as a family of four.
It was also here that through God's will, I realized my dream of becoming a SAHM.  I will forever remember this place because I started my SAHM journey here. 
This place holds special memories for me, from my Californian driving test to my countless kitchen experiments, and oh yes, I will definitely remember the shopping, both online and off.  I will absolutely MISS shopping here.
But…
I guess we had to leave someday.
I'm sad but at the same time excited.  Looking forward to coming home, but not relishing the fact that it will be scorching hot back in Malaysia.  Looking forward to all the food we missed back home, but knowing in my heart that I will also miss California.
Bittersweet nonetheless… Catch up with y'all in a few weeks' time, alright?
You may also enjoy these: