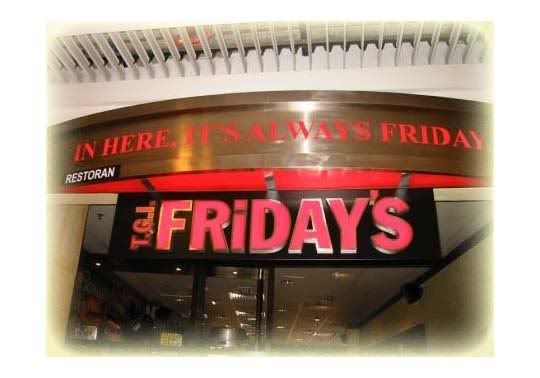 My hubby treated a few of his ex-subordinates to a scrumptious lunch at T.G.I.Friday's at Queensbay Mall today. The saying goes that behind every successful man is a successful woman…so of course I got to tag along too! Yayyay…..I'm a Friday's fan…so naturally I was elated like nobody's business. Friday's was eeriely unoccupied when we arrived (feels so different from Saturday nights when almost every table is occupied). We sat near the wall with musical legends…Jimi Hendrix, Bob Marley and the like…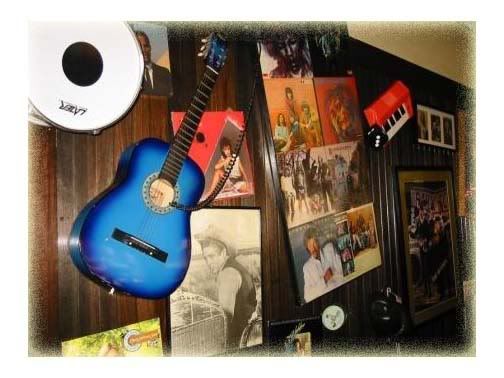 I remembered that I wanted to order the strawberry milkshake because it was really good when I had it at Friday's 1-Utama. Was it as good today? Well, the shake was good, creamy and thick but not as thick as the one in 1-U as far as I can remember.
We ordered the Friday's Mushrooms for our appetizer, which I must say was superb. Deep fried button mushrooms…..oohlala….I've never tasted anything like it before and it's now up there with nachos as my favorite appetizer. Crisp on the outside and mushroom-like on the inside (duh?), it went down perfectly with the sour cream. Yummy….we could hardly wait for our entrees.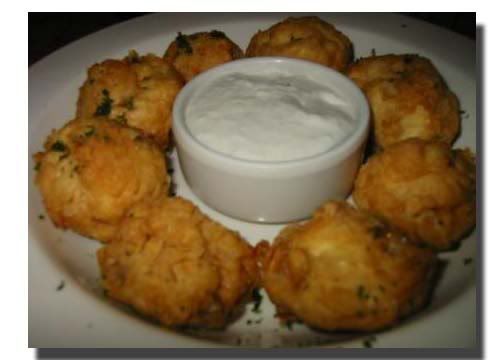 After about 15 minutes, the food came (at last). We were SO HUNGRY!!!
I ordered the Smothered Steak (yeah that's what they call it cos it's smothered in cheese and some sauce) while my other giddy half ordered the NY Chargrilled StripSteak. We ordered them medium rare (did I mention we're meat people?). Verdict: My steak was fantastic, done just right and tasted really good – slicing the meat revealed RED meat oozing with a little bit of blood, medium rare just the way I like it. The portion was also just right, not too big… so I could finish it, no problems. Certainly recommended to the discerning steak lover. I also loved the mashed potatoes which was prepared with the skin: mashed to perfection with all the wholesome goodness….. drooling yet? Hubbs' steak on the other hand, was a tad too hard and "tendon"-like; the serving was really HUMUNGOUS. He said it was "okay only".
I really enjoyed the meal and we were so FULL after lunch … really dreaded that we had to go back to work….SIGH…..and burp! (Excuse me!)