Kayu Nasi Kandar in Penang is, of course, famous for Nasi Kandar (d'oh!).  They also have a sign outside that proudly declares them as being "The Original Nasi Kandar".  And hubby and I will go there at least once a week.  Why?  Not because the nasi kandar is exceptionally tasty, but because we fetch Ethan up at about 6:15-6:30 every work day, and we have dinner before we do so;  Kayu Nasi Kandar is one of the makan outlets which opens early.  However for the last 2 visits, I had grown a little bored with the usual fish curry, lady's fingers and nasi kandar, so I decided to try something new.  And that's what we did for dinner yesterday…Maggi Goreng: A TWIST to the Kayu Nasi Kandar experience.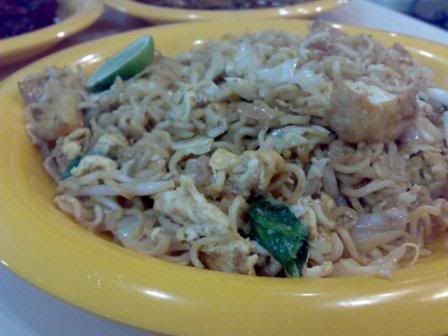 This was not the only TWIST I experienced yesterday.  5XMom caught me lurking mysteriously around her blog, twisted my arm and demanded that I do this meme, or else…!!! Hehe…nola….actually Lilian asked me oh-so-nicely to do this: Put myself in my hubby's shoes and tell the entire world about 10 habits of mine which annoy him.  So unfair, cos with this done, I would have 15 annoying habits and he would only have 5, from the last similar tag I did.
*drums fingers drums fingers*
Here goes nothing:
10 Annoying Habits of The Giddy Tigress, my wife
She talks too much.  Even if there is nothing to discuss, she will still go onandonandon and when I ask her to clarify something she just said, she would have forgotten about it because at the rate she's going, who could blame her?  And then she would instead blame me for not listening to her.  On top of that, she uses BIG words all the time, in the hope that I won't be able to understand what she means.  Sometimes I doubt she even understands what she herself is saying.
She rolls her eyes A LOT.  Ever since we met, this habit has been bugging me.  Especially when she does not have a comeback line, all she does is roll her eyes.  You know, I'm so scared that her eyeballs will get stuck inside her head.
When she goes shopping, she takes such a long time deciding what to buy.  First she will go into one shop, then she will visit another shop to compare the price.  And then she will get sidetracked and shop for another item.  By the time she is done, we have not bought anything and we would have spent the entire day in the mall.
She needs to use the quilt in all kinds of weather.  When it is freezing cold, okay la…but when it is burning hot outside, she has to wrap herself in the quilt also.   And I have no choice but to use it too……why? Hello??  Because we sleep in the same bed maaaa….
She spends a lot of time on the PC, but truth be told, she only does that when she has finished whatever needs to be done at home.  Since she started blogging, her PC time has increased tremendously.  There's another box she spends her time on a lot, and that's the idiot box.  Now with all the new channels introduced on Astro like Discovery Home & Health, she monopolizes the TV like nobody's business.  And that's why I call her a TV addict.
She pulls a long face when I play WarCraft.  What?  I love RPGs and killing orcs and all what.  It gives me a testosterony rush.  True, my playing WarCraft doesn't bring me moolah like her blogging does, but I love reliving my childhood.  So sue me. 😛
She is possessive and jealous, and although she has changed a lot since we first met, I know that somewhere deep inside her, the green-eyed monster is lurking, and will strike at any time.
Her wardrobe is full of clothes she doesn't wear anymore.  And guess what, she just bought herself a new dress last weekend!  Every time we get a wedding dinner invite, that is an excuse for her to get a new dress.  That's not all.  She will only wear the dress once and let it sit in the wardrobe collecting dust after that.  Her excuse is that nobody can see her wearing that same dress twice.  So before we go to any function, she will mentally list down the people who are liable to be there and make sure nobody has seen her in the dress she is going to wear.
Hair hair hair everywhere! 'nuff said.
She drives like a maniac, and then when I try to correct her driving skills to make a her a better driver, she protests, pouts and says I am too much of a perfectionist.  So my response is "My Love, I'm a perfectionist, that's why I married you!" … Always does the trick to shut her up.
Okay…come out, come out all of you laughing away and then cowering nervously in the corner!  It's your turn now.  I'm passing this twisted baton of a meme to:
Angie – I know Ben reads my blog!
Susan – A poem in the works, perhaps?
Wooi Sin – Tell me something about you I don't already know 😛
and finally, I'd like to hear from Miche & David – you can write about each other! Wuahahahahaha…..!!!
You may also enjoy these: