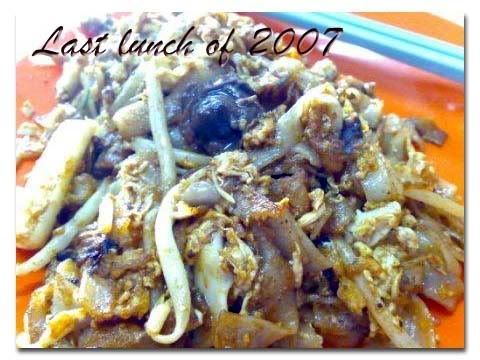 Pelf is right. With so many bloggers posting their personal summaries of what happened throughout the year 2007, it really saves a lot of time blog-hopping because I can simply devour what their blog was all about in a one-leg-kick reading action. In fact, I have also learnt some new things which I didn't know about certain bloggers by reading their year-end recaps.
So now, as the year 2007 draws to a close, I too would like to reflect on what has happened in the year that was…'twas a giddy one at times, made all the more giddier with all the new friendships I have made through blogging.
I began the year by getting a domain of my own. After several months being a blogspot blogger on Ethan's blog, I decided that I love writing so much I wanted a personal blog of my own too. Hence the birth of Giddy Tigers in the blogosphere… at the same time, I also migrated Ethan's blog to its own subdomain as well. And I've never looked back since. Blogging has proven to be an avenue for me to express my thoughts and feelings and also say nonsensical things without anyone telling me not to. I truly enjoyed writing every post, absolutely adored blog-hopping and of course, leaving my two or three cents worth of comments on other blogs, unashamedly chupping along the way. As if juggling two blogs was not too mind-blogging to fathom, something possessed me to kickstart a third blog, solely dedicated to shopping. Without a doubt, my blogging responsibilities have increased tremendously with three *babies* to care for now.
It wasn't all a bed of roses for me though, no sireee… for the first time ever in my life, I put my life on the line and played paintball! Okay, that was an exaggeration, but hey, when that paint pallet hit my head, and I saw the red paint all over my hands, I almost fainted.
This year saw me acquiring a new toy too, the hot spanking Nokia N73. It has brought me countless hours of pleasure and thrills of photo-snapping and video-recording, all because of the disease which still, to this day, plagues me.. Will the year 2008 present me with a DSLR instead? Hehe….time can only tell.
I also did many an interesting tag this year, a somewhat controversial one being one where I had to put myself in hubbs' shoes and pretend to be my own critique. Certainly didn't know I could write so many annoying things about myself! Heh. Very unusual of me, being an optimist and all… I did have a couple of self-reflection moments too, moments where I paused to think about the whole big picture of life. Or moments when things just weren't going my way, and I felt really really down in the doldrums. These have certainly made me stronger and taught me perseverance.
Of course, life is never complete without food. Sometimes I wonder if I do indeed live to eat. Be it the authentic original Old Town white coffee in Ipoh, or homecooked meals, the past year has been an exceptional culinary experience worth savoring. In retrospect, I did fulfill my resolution to cook more often though. Well, sorta. My favorite memories were of me cooking the claypot chicken rice and the Sarawak Laksa, oh…and who could forget that assam fish curry we had for Merdeka too?
In July, we made a very enjoyable family trip to Singapore, where we had a blast visiting the zoo, the Underwaterworld, shopping and yes, of course eating goody stuff there too. Made a few trips to KL also, a very memorable one being the one we had during the Raya break. Too bad I couldn't make it when my brother's song was performed during the recent MRSC finals though, but I heard it was a blast! Well, my infected ear has recovered nicely, so I can listen to his song in a crystal clear manner.

Thanks to Facebook, 2007 saw me reuniting, albeit virtually, with several old classmates and acquaintances. Ah, old petty squabbles were forgotten as I found it liberating to be able to communicate with them miles away. And oh yes, friendships were made stronger with this social utility that certainly has a very bright and promising future ahead!
Finally, to end the year on a high falsetto note, we got ourselves a beautiful Christmas tree. I think I'll let it stay up till after the New Year 🙂
Bon Année 2008 everyone! May the New Year bring you all you have ever dreamed of!