Sorry! That was just me clicking away amateurishly at my camera *embedded* in my new Nokia N73 while we were at the Botanical Gardens last Saturday morning. Truth be known, my fingers did a whole lot more exercising than my entire body did, that's for sure! No complaints about the camera, err…oops, the phone except that in the one week that I have had it, I encountered error messages on several occasions telling me that my 1GB memory card was not detectable. To resolve this, I have had to either restart the phone or reinsert the memory card. So later that Saturday afternoon, we scooted over to Gurney's to report this to the guy who sold us the phone. Actually, my hubby also wanted to go and get his phone loaded with games, as he discovered that his new phone was game-less…tee-hee! Anyways, the guy kinda reconfigured my memory card and told me that it should be working all right now; so far, so good, no problems..I'm keeping my fingers and toes crossed!
Oh yeah, we stopped by The Body Shop too, as it was the second day of their annual sale. A couple of days before the sale started, I had received an SMS and 2 voice mails informing me of the sale. And it looked like everyone in the whole of Penang got it too, because the whole shop was jam-packed so bad, it was so hard to move. It figured because The Body Shop members also get an additional 10% off during the first three days of the sale. And being a member, I could NOT resist checking out what I could grab. And look what temptation did to me…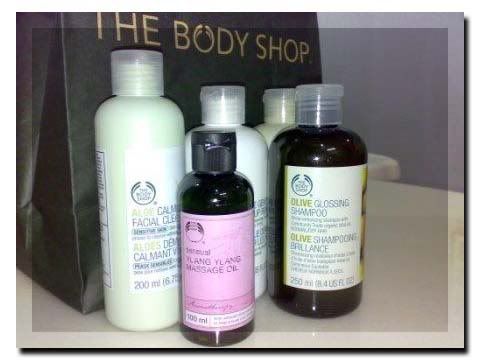 So all in all, a weekend well-spent. We managed to contact the air-cond man to come and fix the air-conditioner in our room too. So it's no longer leaking now. Yippee!! What a splendid 2-days I had. And what a contrast it is to today. SIGH… Again, I'm so sad it has to be Monday today. Boo hoo….