Three days before the Chinese New Year, I received the finished product of the personal project which I had been working on for months on end. Forty pages of photos of Ethan all captured in a 30cm x 30cm black hardcover-bound photobook, worth every second of the time I had spent laboring over it.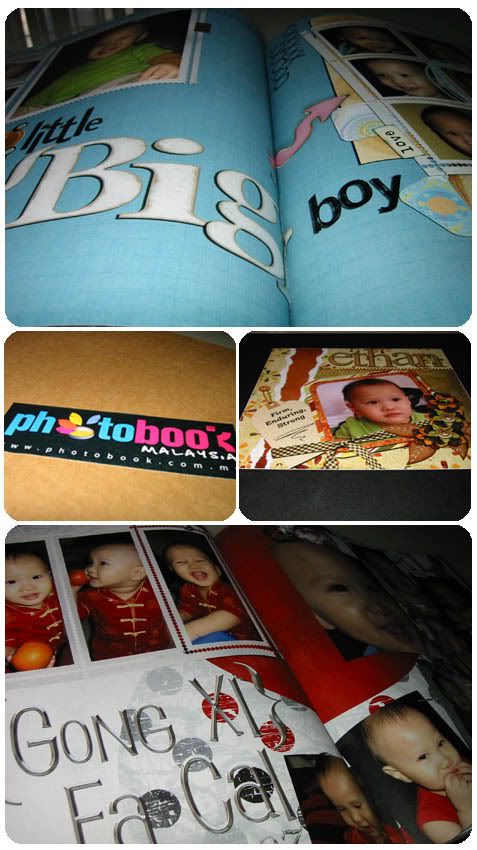 Never mind that I had to redo some of the pages over and over again because I was not completely satisfied with them initially.
Never mind that it took me weeks to finally get in touch with someone from Photobook to iron out the details of the order.
Never mind that I had to upload the photobook file at least four times because they got corrupted every time I did the upload.
Never mind that I had to follow up with Photobook to find out if my order would be able to arrive before Chinese New Year, only to find out that they had already shipped it out two days before my inquiry was made.
Never mind that I had to personally call the courier company to follow up on the status of the shipment, only to be told that they had gone to my house and claimed that no one was around. And never mind that no notice was left to inform me that they had tried to deliver the parcel.
Never mind that my hubby and I had to drive all the way to the courier company to pick up the parcel, because we were only too anxious to see the finished product.
Never mind that we had to wait a further 10-15 minutes before we finally held the parcel in our hands.
Because all this trouble was so worth it. I decided to create a photobook with Ethan's photos after Jazzmint recommended Photobook over Pixart. At that time, my Pixart project was almost done, but I still took her word for it, and am happy to say that I have never looked back since. Compared to Pixart, I must say that the lamination quality of Photobook's albums are way better. Just seeing the digital scrapbooking I created come to live on the pages of the photobook is really inspiring. In fact, I am seriously thinking of starting on another one for the next two years culminating with Ethan's fourth birthday, and hubbs even suggested creating one for our wedding photos too.