I'm back from my very short two-night escapade to KL..no..more like Damansara because that's where we were most of the time anyway.  In short, it was a very fruitful and eventful trip, the excitement of which started even before we left Penang on that Saturday morning.  My hubby noticed the air pressure in one of the rear tyres of our car was diminishing more so than the rest, and it was a good thing that he noticed a nail stuck to the tyre right before we left.  Not wanting to tempt fate, and taking this as a sign from God, we drove to the tyre shop and had it patched.  We decided to have dim sum brunch after that since we were already hungry.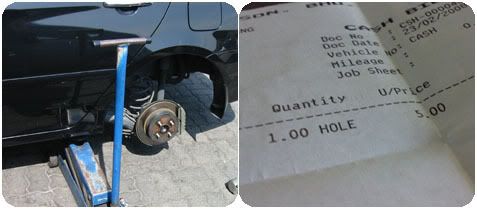 Off we headed for KL after that.  Surprisingly though, Bidor still called out to us, and we simply had to stop for a quick bite there.  The lure of the Pun Chun wan ton mee was too strong, even though it is now priced at a hefty RM5.25 per plate! The quaint little town of Bidor was already decked in election posters and banners, much more so than in Penang, I would say.
This time round, hubbs and I decided to take Monday off from work, so we had more time to spend in the Klang Valley.  It was a good thing we did, because we managed to achieve a lot of things:
Paid a visit to my newborn nephew, baby Collin.  He had to be readmitted for two days because of infant jaundice, but as of yesterday had been given the green light to go home.  Also met up with siblings and family members.  Remember baby Jonathan?  My, my…look how he has grown!

Savored some yummy Bao Bao pan mee near the hospital.  Was dead hungry, so could only muster my strength to take one miserable photo of the bowl I devoured.

Had a gastronomic adventure where we ate at Tony Roma's @ Cineleisure Damansara (Sunday lunch) (service has improved since I last went there), Tu-Long @ MidValley (Saturday dinner) and Italiannies @ The Curve (Monday lunch before we left for home). Not forgetting of course, the glorious buffet breakfast spread we had at the hotel every morning.  Oh, I simply MUST give special mention to the raisin bread pudding we had at Italiannies…all I can say is, thank goodness it was just hubbs and I eating it…less men, more share ma! 🙂
Met up with Rinnah, finally!!!  Oh well, it was just a measly 5 minutes of saying hi and putting a face to a name, but it was great!  I tell you, she has such a smooth porcelain complexion and also, she and I are about the same height!  How's that for coincidence!  Hope we can have a longer chit-chatting session next time, yeah?

Shopped till I almost dropped…at Ikea mainly. Bought some useful household stuff and of course, a new RUSCH wall clock to replace the one we had that had died some moons ago.  I still can't believe it now costs a mere RM5!

Last stop was at Big Apple @ The Curve to buy some donuts. Curiosity made me get one of the Alien & Predator limited edition donuts, chocolatey and all.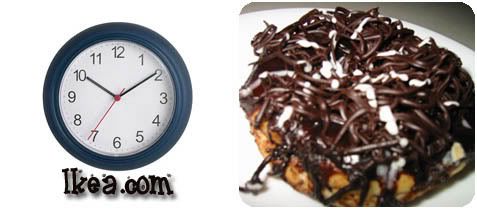 Alrighty now…it's high time for me to lose weight.  Hopefully before the polling date…