Yesterday afternoon, the door bell went "ding dong" and when I answered the door, I found a brown parcel addressed to me placed in front of the door.  On it were the words "Fragile.  Do Not Bend".  I'd already knew what it contained before I opened it, because I had been waiting for it for several days now.
Truth is, I have been yearning to be able to crochet beautiful stuff like wool longies, shorties and skirties for my kids, and maybe something nice for myself too… 🙂
I'm hoping this kit will help me learn the basics.
So yesterday, I browsed through the instructions, and referred to an easy-to-follow tutorial online, and so far, I am pleased to say I have learnt the single crochet stitch!  Not bad, huh, for someone who has to learn crochet in between doing other things like caring for baby and housework?
Here's my somewhat small and pathetic achievement thus far…I know it's nothing yet, but I am very proud of myself 🙂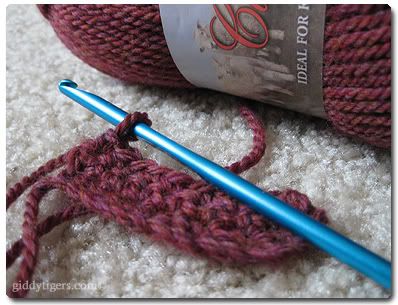 I am SO tackling the double crochet stitch today, if the situation permits…