Phew! We just got back from our trip to Ipoh and Taiping over the past couple of days, and boy are we tired.  On Saturday we made a trip to my hometown in Ipoh, spent the night there and on Sunday, headed for my hubby's hometown in Taiping.  Managed to down some fantastic homecooked meals, which we have really been deprived of (save for some weekends when I do cook), whilst Ethan had a good time exploring both places.
On Sunday morning, we made a trip to Leech Street in Ipoh to savor the authentic white coffee, from the place where it all started.  The Nam Heong restaurant was jam-packed with coffee lovers and (I think) visitors to Ipoh.  Thankfully we found a seat, and ordered coffee and roti bakar (what else?!).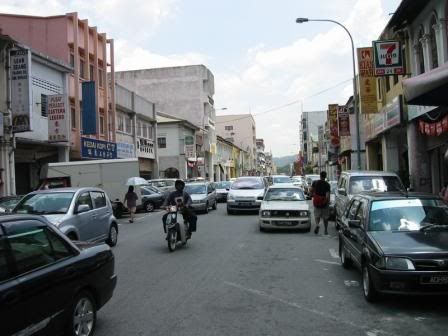 It was the first time I had coffee in 2 years, at least, what with the pregnancy and breastfeeding.  Although I'm still breastfeeding now, I figured it should be all right for me to have a cup.  And I'm glad I did.  The coffee's aromatic fragrance was just an invite to its smooth taste and rare blend of authentic coffee beans.  According to my hubby, from the taste, it is apparent that the white coffee here in Nam Heong is made from soaking and sieving the beans using the traditional muslin cloth, as opposed to the one at the Old Town White Coffee franchise, which tasted like they made it from the 3-in-1 packets.  I noticed that the Old Town White Coffee franchise even copied the way Nam Heong places the coffee spoon.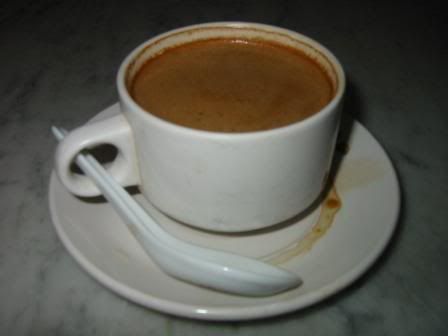 However, the coffee at Nam Heong ought to have been served in the traditional coffee cups, the kind with the green designs at the side.  That would have given it that extra authenticity.
Rotibakar was all right too, thin and crisp.
Best of all, 3 cups of white coffee and 5 servings of rotibakar only cost us RM7.80.  In the Old Town White Coffee franchise, one cup of coffee alone would have set us back RM2.20!  It was therefore a surprise to me that the franchise also existed in Ipoh (in Greentown business center), and it's a really huge one too!  Of course, people who frequent it pay for the ambience as well.
Well, I'm glad we found time to have brunch at Nam Heong.  Truly delicious and memorable coffee – I'll take this anytime in place of a Starbucks latte!