When I was in the planning stage of our Singapore vacation, I used the internet to scour for the best room rates I could find.  We wanted a hotel which was not too lavish, but yet not too seedy.  In addition, we wanted to stay somewhere convenient for moving around, especially with a little one in tow.  Most of the hotels cost at least SGD200 and some did not even include the customary breakfast.  Then I suddenly remembered my very first Nuffnang ad.  An ad for Perak Hotel in Singapore!  I contacted the hotel and they quoted me SGD148++ per night for a deluxe queen room, and SGD15++ per night to include a baby cot.  However, when I mentioned the magic word "Nuffnang", the room was ours for SGD148 NETT and the baby cot was included free of charge!  Ain't that great?  They even threw in complimentary breakfasts… oh, and of course free wifi access.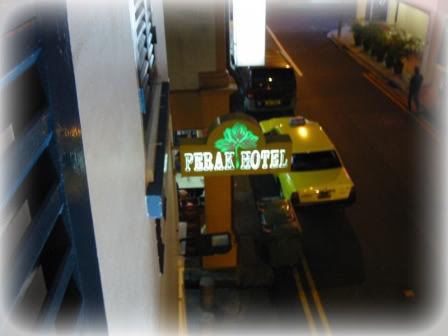 Perak Hotel is basically a bed and breakfast kinda hotel, not your 5-star luxurious retreat, but it prides itself in its comfort and homely furnishings.  Many backpackers find this hotel comfy enough to rest their weary bodies after a long tiring day and so did we (well, except that on the 3rd night the air-conditioner started leaking a little.  Thank goodness it was a one-off and it stopped after a few minutes)  The hotel is situated right smack in the middle of Little India and unfortunately has no elevators.  Bummer! We had to lug our 2 huge hard-case suitcases, 1 carry-on and Ethan up 2 flights of stairs to the 3rd floor, where our room was located.
The room had wooden flooring, not timber strip flooring, but the olden wooden flooring.  I bet it made a lot of noise when Ethan marched up and down 😛   We also had to make do with a queen sized bed instead of the regular king we had grown accustomed to at home, but it was comfortable and clean to say the least.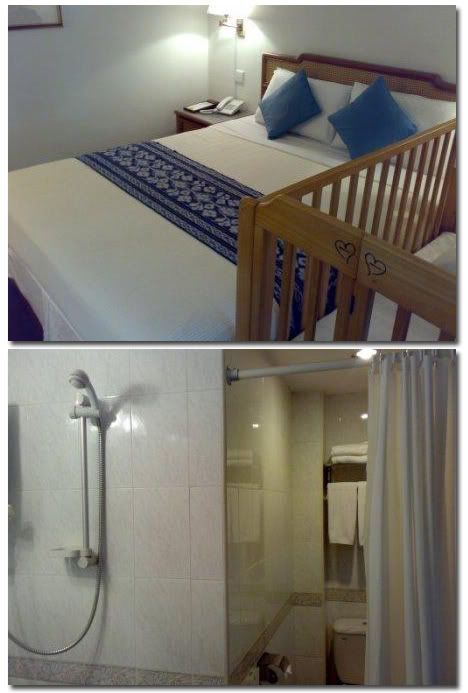 All in all, we enjoyed a comfortable stay in Perak Hotel.  The staff in the hotel were all really friendly and greeted us whenever they saw us.  Although the downside was that we had to walk a good 10 minutes to the nearest MRT, coming back at night to the hotel located in a rather quiet street did not bother me one bit.  I felt safe there.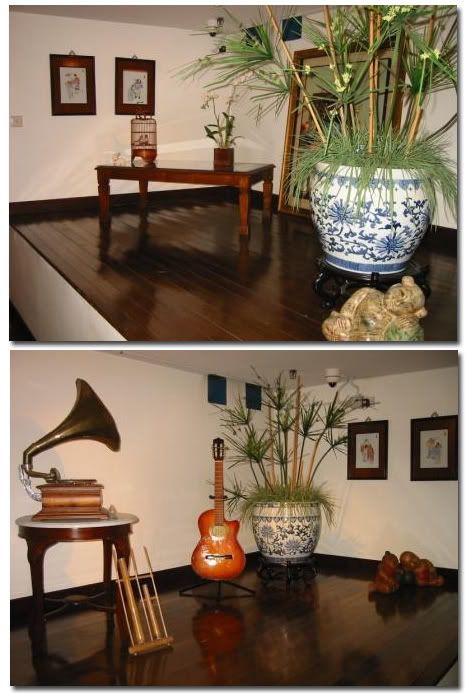 Perak Hotel enjoys countless testimonials from its guests who all have nothing but good things to say about it.  And as for breakfast, although the spread did not equal that of a continental buffet breakfast, I am pleased to say that we had a hearty breakfast every morning of our stay there.  Toast with butter, kaya, peanut butter or jam, hard-boiled eggs, either fried rice, beehoon or instant noodles, fruits, juice, coffee, tea and something that the luxury hotels don't serve in their buffet breakfast: Milo.  Don't know about you but having Milo when I travel makes it feel like home.
So this was what we called *home* for 6 days in Singapore.
And it all began here.