We had a 4-day extended weekend break for the Hari Raya holidays. I'm back at work today, wondering where that holiday had escaped to. It only seemed like yesterday that I was happily packing up after work on Friday evening, and then heading for home in a cheerful mood, preparing to pack my clothes for a short holiday to my hometown in Ipoh and also a visit to the country's capital, KL.
We Woollied
In Ipoh, we had originally intended to satisfy our craving for the famous Lou Wong Nga-choy kai (bean sprouts and chicken) by having dinner there. But the crowd in the restaurant was standing room only and as we drove past, it became apparent to us that we would have to postpone the nga-choy kai dinner to another day. Instead we ended up having dinner in Woolley Center. I was amazed at the vast transformation that had befallen the food court that held many a childhood memory for me. 
We Crowned
On Sunday, we headed for KL after lunch and checked into the Crowne Plaza Mutiara KL, after some (ahem) experienced navigating and driving around the Bukit Bintang and Jalan Sultan Ismail area. The hotel was splendid, a glorious wedding anniversary present (in advance) from Mom and Dad. Right smack in the middle of town, we knew we were going to be staying in the midst of a shopping haven, as the newly-opened Pavilion was just a stone's throw away. Food in the hotel was good too, as was apparent from the buffet breakfast we had. So good, that I only *remembered* to take a picture of the teochew porridge….Of course, it certainly helped that the coffee house was tastefully decorated too.

We Italiannied
In any case, our initial plan of having dinner on Sunday night at the Pavilion did not materialize, although it was a good excuse anyway to call Rinnah and Paris a couple of hours before then. Instead, dinner was at another shopping mall: The Gardens. We didn't need to go to The Curve to get good Italian food, because we could get it at The Gardens.
Because the outlet was still new, we were given complimentary appetizers comprising lasagna and garlic bread. Some of us preferred the default plain bread they normally served, but whatever.  They just replaced it in the blink of an eye.  We ordered the fried calamari, pizza and salmon fettucine, and mentally we prepared ourselves for the dessert that was to come too. Oh, by the way, the strawberry cheesecake and creme brulee at Italiannies were so heavenly and sinfully good, I'm still craving for it now. Gosh. Don't think any other cheesecake could even come close to it…
We *Dove* Underwater
We visited the Aquaria, where the queue was SO long when we arrived. I just don't know what the management was thinking. They only had two counters open to cater for the large crowd! Imagine if a tourist were to visit the Aquaria on their first sight-seeing trip in Malaysia, what a bad impression that would have made! So much for Visit Malaysia Year 2007, huh? Perhaps it is time the Aquaria implemented online ticketing. But anyway, after a wait of about half an hour, we finally got our tickets. I must add that the ticketing officer wasn't at all pleasant too, to begin with.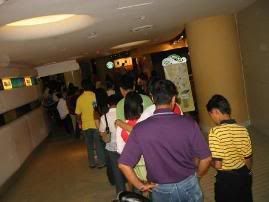 In comparison to Singapore's Underwater World, the Aquaria had less fishes but more turtles. The tunnel, which was really the highlight of my Singapore Underwater World experience, failed to deliver this time around in the Aquaria. We did manage to get some pictures of our trip though…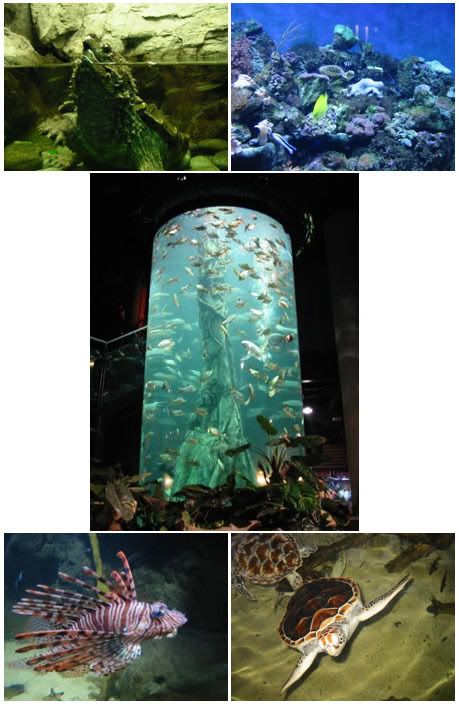 We Sushied and Sashimied
Anyway, I forgot to mention that this is the view that greeted us at the back of our hotel: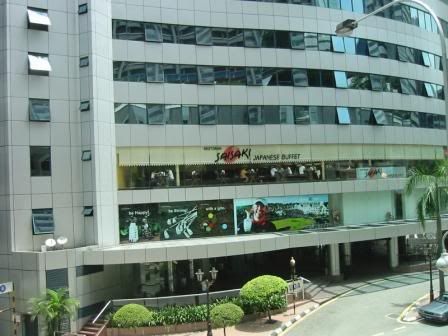 …and yes, of course, we were tempted to go for buffet lunch there. Unfortunately, because of the long wait at the Aquaria, when we arrived at Saisaki, it was already 2:10p.m. and the buffet spread would be cleared at 2:30p.m.! In fact, they were already on their "last call" when we arrived. Dang. The Aquaria queue caused us our Saisaki buffet lunch 🙁 So scratch that plan. We made our way to Pavilion instead and had our Japanese fix there.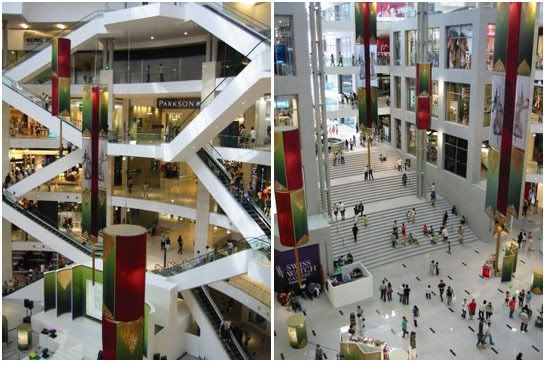 I had wanted to get some J.Co Donuts too while I was at the Pavilion, but the long queue put me off. What is it about queues and holidays anyway?
We Jammed
On the way back to Penang, we were stuck in traffic jams. In fact both sides of the highway were jam-packed with cars rushing back home after the Raya break. Inching our way forward for about 45 minutes for about 3 km before the Jelapang toll booth, and then again before reaching the Juru toll booth, we thought we saw the last of it, but we had to endure one final jam at the Penang bridge.
Tiring? You bet. But it was worth all the fun we had. I look forward to the next holiday in all excitement.
You may also enjoy these: